My Great Grandmother, Jane Fitzhenry, married my Great Grandfather, Joseph Lines on 30th June 1877 the parish church of St Andrew in Holburn. Her father was Michael Fitzhenry, recorded in census and some other records as being born in Bristol in 1809. There is however no record of his birth, or who his parents were, so he is the earliest Fitzhenry I can track down.
My Father, Roger Lines, did some research, possibly when he was a college after his National Service, and when I find it I will insert it here.
Jane's brother, Benjamin Fitzhenry. married Joseph's sister – Mary Ann Lines in 1875, so there is a double connection between the families.
Michael Fitzhenry (1810? – 1871)
The first record which gives him a date and place of birth is the 1841 Census, though his first documented appearance is his marriage on 5th August 1832 to Elizabeth Kemp, in the Holy Trinity Chapel, Chelsea.
In the 1871 Census he is living on his own at 11, Kings Head Court, St Andrew Holborn, Farringdon Without, City of London, with an occupation of Printers Warehouseman, but his wife and children are living elsewhere.
He died on 1st December 1871 at Bow Workhouse, Poplar. The death record show Pulmonary ?Consumption? (Tuberculosis).
Elizabeth Kemp (1812 – 1877)
Born on 21st January 1812 to Samuel Kemp (1760-1814), and Mary Hamblin (1768-1814), and baptised at St Marylebone Parish Church on 12th February, it looks as if both her parents died when she was two, but her life is a mystery into her marriage in 1832.
There is certainly a will for a Mary Kemp (who could have been her mother) in 1814 in the Prerogative Court of Canterbury – which I will try to decode. Similar to the will of Christiana Williams, it may be that wills referring to orphans were preserved.
In the 1871 Census, aged 59 she is living with William (24), Benjamin (22) and Jane (20), at 38, East Street, St George the Martyr, Holborn, with an occupation of Laundress. She died there on the 28th of March 1877.
Elizabeth Fitzhenry (1834 – 1854)
She died aged 20
Sarah Fitzhenry (1836 – 1862)
She married James Henry Walley (1840-1915) – a printer's warehouseman, on 19th May 1861, and their daughter, Sarah Ann Walley was born on 2nd February 1862. Probably due to complications in childbirth, Sarah (the mother), died in 1862 and was buried on 17th February 1862.
James re-married, and brought up Sarah Ann with his other children.
George Fitzhenry (1840-1879)
George was a Private in the 12th Regiment of Lancers, He married Ann Elizabeth Curry on 18th July 1864, and they had 7 children, mostly born in barracks in Ireland or England. Of these only William (1868-1924) and George (1875-1952) outlived their parents.
Mary Fitzhenry (1842 – 1897)
Married Edward Clements (1841-1922) in 1862, and they had 7 children.
William Fitzhenry (1846 – 1888)
Married Jane Annie Gatehouse (1857-1953) and they had 3 daughters.
Benjamin Fitzhenry (1848 – 1925)
He married Mary Ann Lines (1850-1882), the sister of Joseph Lines on 31st July 1875. His occupation when they married was Printers Warehouseman, like his father.
Benjamin and Mary Ann had four children, Helen Fitzhenry (1876 – 1925), Jane Elizabeth Fitzhenry (1878 – 1946), Ernest Harold Fitzhenry (1880 – 1908) and Frederick Fitzhenry (1882 – 1952).
Frederick FitzHenry worked for G&J Lines and received a legacy in Joseph Lines' Will.
Jane Fitzhenry (1850 – 1925)
Married Joseph Lines (1848-1931) on 30 June 1877.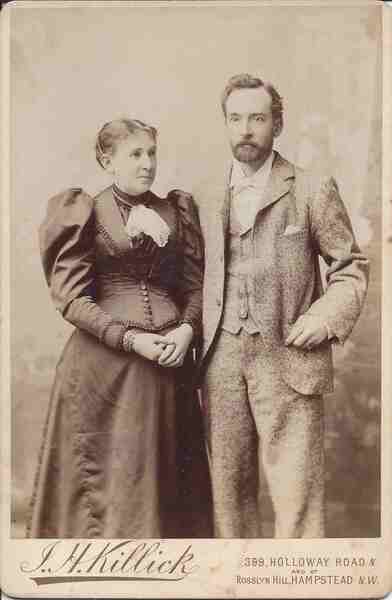 Harry Fitzhenry (1855 – 1936)
He married Martha Mary Ann Dawes (1855-1914) in 1878,
He was non executive director of G&J Lines when it was formed in 1908.