My Great-Great Grandfather was William Webster (1823-1889). His daugher, Ada Webster (1861-1944) married my Great Grandfather, John Robert Box (1849-1826) in 1884 at Highgate Rise Church.
Confusingly his father was also William Webster (1796-1888), and I think his Grandfather may have been also been a William Webster.
Here I try to untangle the more recent two William Websters, who were both bakers and sometimes lived at the same addresses.
William Webster 1823-1889
Born on the 10th of October 1823, at 58, Coleman Street (OSM), in the City of London, the fourth child, but eldest son, of WIlliam Webster (1795 – 1888), and Ann. He was baptised at the church of St Stephen, in Coleman Street on the 21st December, and his father's occupation is shown as Baker.
Elizabeth Reitze (1828-1924)
He married Elizabeth Reitze – daughter of Justus Reitze, on 14th July 1846, at the church of St Stephen, when he was 22 and she was 17.
Their first son, William Justus Webster was born on 1st February 1850, probably at 11, Moorgate, as that is his address at William Justus' baptism on 7th March. As with his own baptism, the father's occupation is shown as Baker.
The family were living at 11, Moorgate in the 1851 Cenus, William, Elizabeth, William Justus, Susan Baker (a visitor), and two apprentice pastry cooks and a shopwoman. This had been his father's house in 1843, but by 1851 his father was now living at 22, Highbury Place.
Their daughter, Margaret Elizabeth, born 23rd November 1851, died on 26th March 1861, shortly after sending birthday wishes to her sister Ada.
Their son, Arthur Reuben, was born on 6th May 1858 and another daugher, Edith Reitze on 15th February 1860 – both at 11, Moorgate Street.
By the 1861 Census the family were living at 5, Gracechurch Street, an imposing building, where they were still living when Ada, my Great Grandmother, was born on 30th November 1861.
Another daughter, Janet, was born at Gracechurch Street on 8th August 1863.
The family had moved to 124, Albion Road, Stoke Newington by the time Percival John Jones Webster was born on 24th January 1865, and were still there when the last child Alice Eborall Webster was born on 11th April 1868.
The family were living on Albion Road for the 1871 Census, but had moved to Brockfield House, St Pancras by the 1881 Census.
By his death on 1th January 1889 he had moved to Harpley House, Queens Road, Finsbury, though I don't know exactly when. Nothing to do with the Websters, but Julius Elias, 1st Viscount Southwood is shown as living there in the 1907 Electoral Roll.
His wife Elizabeth may have been looking after her son, William Justus in the April 1891 Census, shortly before his death on 17th May 1891, and then living with her daugher Alice in 1901, before moving to the Oxfordshire village of Harwell by 1911, but that is another story.
Notes from Norah Box
My mother took some notes on this William Webster in conversation with my Great Aunt Norah Box – these continue from the notes about his grandfather below. Although they appear to be talking about the son of the army officer William Webster, from the first sentence, they fit the grandson better – I think.
He wasn't like his Dad. He had a shop in Gracechurch Street "High Class Confectionary". Did catering & had a coffee house & lived over the shop. Granny Box (Ada Webster) was born there. He catered for The Lord Mayor's banquets & had a good class restaurant & cooking store for use at banquets (Rockingham red & gold cups – no side plates with original set so they don't "match"). Also table ornaments, I have one via Granny & Aunt Rose. Sue has another via Aunt Alice & Aunt Norah. They have a sort of lattice top & are blue & gold.
The Rockingham china tea cups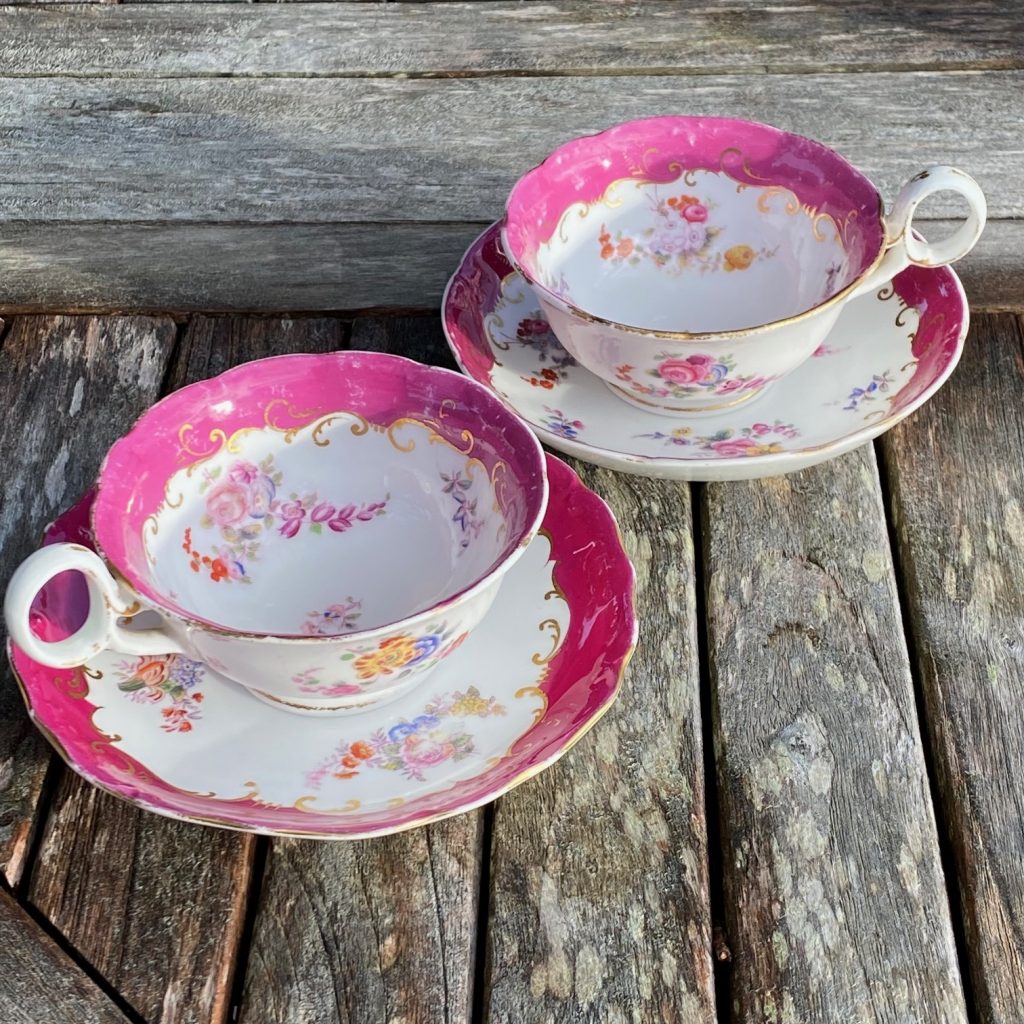 The these were inherited by my mother from her Aunt Rose, and said to be Rockingham china, and given to each of his daughters by her Great Grandfather Webster as a wedding present, i.e. to her Grandmother Box (nee Ada Webster) & also to her Aunt Alice and presumably to the others, Aunt Janet and Aunt "Fred" (Edith Webster).
Aunt Fred was called that as one of the sisters of John Robert Box (married Ada Webster), and Frederick Braund Box (married Edith Webster), as Edith Alice Bryson Box, so there was already an Edith Box in the family.
Probate 1889
His probate record reads:
Webster William Personal Estate £14,577 13s 1d Resworn November 1889 £16,520 4s 3d
4. March. The Will of William Webster late of Harpley House, Queen's Road, Finsbury Park in the County of Middleses who died 16 January 1889 at Harpley House was proved at the Principal Registry by Elizabeth Webster of Harpley House Widow the Relict and Thomas Webster of 6 Radipole Road, Fulham in the said County, Gentleman the Brother, the Executors.
William Webster 1795 – 1888
I know less about this William Webster, except that he was born in Canterbury around 1795. He married Ann, who might have been Warwood, there is a marriage certificate for a William Webster marrying Ann Warwood in the church of St George, Bloomsbury on the 17th September 1816.
Their first daughter, Mary Ann Elizabeth Webster was baptised at St Lukes, on 4th January 1818. This is about 2.5km from St George. His profession is given as Baker, and their address as City Road, a long and famous (from Pop goes the Weasel) road which bounds the parish of St Lukes. The baptism certificate shows her date of birth as May 26th 1817.
Another daughter, Sophia Webster was born about 1819, probably on Coleman Street, and was baptised on 20th December 1820 at the church of St Stephen. The family had moved some time between January 1818 and December 1820 to Coleman Street, probably number 58.
A third daughter, Louisa Matilda Webster was born on 16th June 1821, and baptised at St Stephen on 22nd December 1822.
Their first son, my ancestor William, was born on 10th October 1823 and baptised on 21st December, with his home address given as 58, Coleman Street.
William was followed by Thomas, born in 1826 and baptised on 7th May, and James, born 11th May 1828, baptised 6th June, and buried, aged 18 on 2nd December 1838 .
Next came two more daughters, Ann Zillah, born 5th June 1830 and Eleanor, born 2nd June 1833.
These were followed by twin boys, John and Robert, born on 21st June 1835 and baptised on 27th September at St Stephen's. Sadly Robert died in 1838 and was buried, aged 2 on 4th March.
Some time between 1835, when John and Robert were born, and 19th January 1838, when the next and final son Reuben was born, the family moved from 58, Coleman Street to 11, Moorgate (OSM), not very far away. Moorgate was laid out in 1834, so the family were presumably moving into a new house.
William was still living at 11, Moogate street on 10th September 1843, when Sofia married Joseph Eglese.
By 1851 he had moved again, to 22, Highbury Place, and the younger William Webster had moved to 11, Moorgate. He continued to live there until his death in 1888.
Probate – December 1888
His probate record reads
WEBSTER WIlliam.
Personal Estate £63,694 10s 5d
12 December. The Will with four Codicils of William Webster late of 22 Highbury place in the County of Middlesex Gentleman who died 14 November 1888 at 22 Highbury Place was proved at the Principal Registry by Thomas Webster of the London and Westminster Bank, Lothbury in the City of London, Banker's Clerk the Son and Mary Ann Armitage of 22 Highbury place Widow the Daughter and Thomas Joseph Bishop of 7 Gibson Square, Islington in the said County Gentleman three of the Executors.
Effects of over £63,000 was a substantial amount in those days. Note that the address of 22, Highbury Place confirms this as the right William Webster
His Executor, or the three named in the probate were:
his son, Thomas Webster (1826-1902), who worked at the headquarters of the London and Westminster Bank, on Lothbury, a street in the City of London.
his eldest daughter, Mary Ann Elizabeth Webster (1817-1908), who had married Robert Armitage in 1839, and been widowed in 1870
Thomas Joseph Bishop (1813-1891), not a relation, but the 1881 Census shows him as Retired Treasurer Of General Steam Navigation Company, so they probably shared charitable interests.
Obituary in The City Press – November 17th 1888
On Wednesday last there passed away a gentleman who was undoubtedly the father of the Ward of Coleman Street.

We refer to Mr. William Webster who died at his residence, twenty two Highbury Place. The deceased was in his ninety third year, for many years represented the ward of Coleman Street at the Court of Common Council. He entered the court in 1848, continuing to hold his seat until 1876, when he retired on account of failing health. When Mr Deputy Hale was raised by the rate payers of the ward to magisterial bench Mr Webster was appointed by him deputy – a post he held until his retirement from the Court.

Deceased during his connection with the Corporation filled many chairs, that of General Purposes Committee being perhaps the most important one. Outside his Corporation work deceased will be especially remembered for the active part he took in connection with the establishment of the Master Bakers Pension Society, of which at the outset he was appointed treasurer.

Another charity he was connected with was the Holloway & North Islington Dispensary, the soup kitchen in connection with which he was one of the founders.

The funeral takes place at Highgate (new) Cemetery on Tuesday, at one o'clock. The request is made that "no flowers" shall be sent.
Notes
This obituary notice puts his birth around 1795.
William Webster – The military man
From my mother's notes, taken when talking to her Aunt Norah (my Great Aunt Norah)
G.G. Grandfather Webster was of a military family & an army officer, friend and admirer of General Burgoyne. who was defeated by the Americans at the battle of Crown Point, Saratoga in 1777. He drank, gambled & got into debt. Named his eldest son, born 1795, William Burgoyne Webster.
These notes are continued under William Webster (1795-1888)
Note that although there was a William Webster baptised at St Margaret's Church Canterbury on 20th January 1797, I do not have an image of the record, and there are no external references to verify that he had a middle name of Burgoyne.
General John Burgoyne was born in 1722, and died in 1792, so if we assume that this William Webster was between 20 and 40 when his son was born then he would have been born between 1755 and 1775 and would have been roughly 20 to 40 years younger than John Burgoyne. There could have been yet another William Webster, who was the friend of John Burgoyne, naming his son William Burgoyne Webster, and that son was the father of William Webster 1795-1888.
Although there is no 1797 baptism record, William Webster (1795), did have a son John Webster (1835-1878), and his son was baptised William Lawrence Burgoyne Webster on 25th February 1867, and buried on 10th October 1869, aged 2.