Joseph Lines was my Great Grandfather. He formed the company G&J Lines with his brother George. They primarily made rocking horses.
He attended St Andrews School, Camden, starting, aged 7, on October 1855. His Disposition and Attitude was shown, when admitted as 'Can read a little'. He was admitted into the 5th class.. At the time of quitting school, in August 1861 he was in the 1st class. His parents, Abel and Jane Lines, were living at 91, Saffron Hill. Abel's occupation was Skin Dresser, and there were 7 children in the family. The cause of leaving was 'Gone to work' and his character was 'Very Good'. In those days teachers did not hide their opinions, one of his fellow pupils is described as 'a tiresome boy'
He married Jane Fitzhenry on the 30th of June 1877 and they had eight children,
William (1879 – 1963)
Edith (1880 – 1957)
Walter (1882 – 1972)
Mary (1883 – 1958)
Rosa (1885 – 1889)
George (1888 – 1983) – My Grandfather.
Winifred (1890 – 1983)
Arthur (1992 – 1962)
According to https://probatesearch.service.gov.uk/#calendar Search for Lines and 1932 (he died 31st December 1931):
Lines Joseph of 141 Lordship Road Stoke Newington Middlesex
died 31 December 1931 Probate London 4 March to George
Edward Lines manufacturer and Leonard Herbert Graves
incorporated accountant. Effects £33543 9s 7d
The story of his will tells how these effects were distributed.
Here is a picture of him, with Jane, as a formal portrait.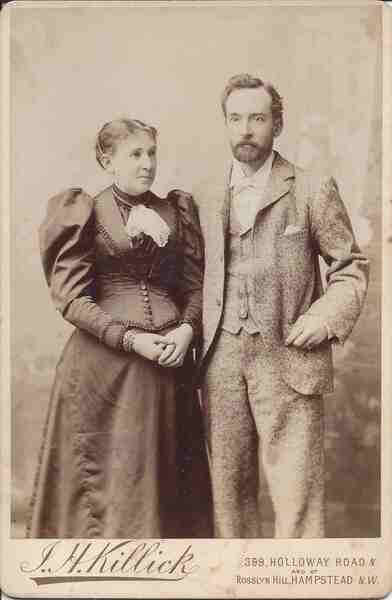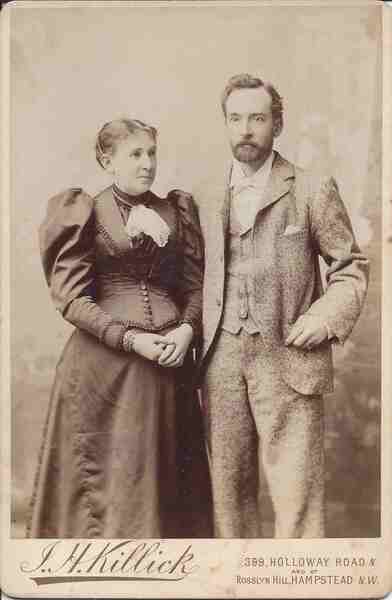 (this post is a bit of a place holder – I will add more information later)