The First World War left much confusion in it's wake, even though an Armistice had been signed on 11th November 1918, many people were still far from home in the early months of the following year. These included my Great Aunt, Margaret Box – who had joined the Scottish Women's Hospitals as a nurse, serving in Serbia. On the 18th of February, when Margaret was stationed in Sarajevo, but had written to her father, John Robert Box (my Great Grandfather) to say that she might be coming home, but that they (the nurses in Sarajevo) did not know what was going on.
On 18th February the Scottish Women's Hospitals wrote to John Box presumably in reply to an enquiry he had made about Margaret's return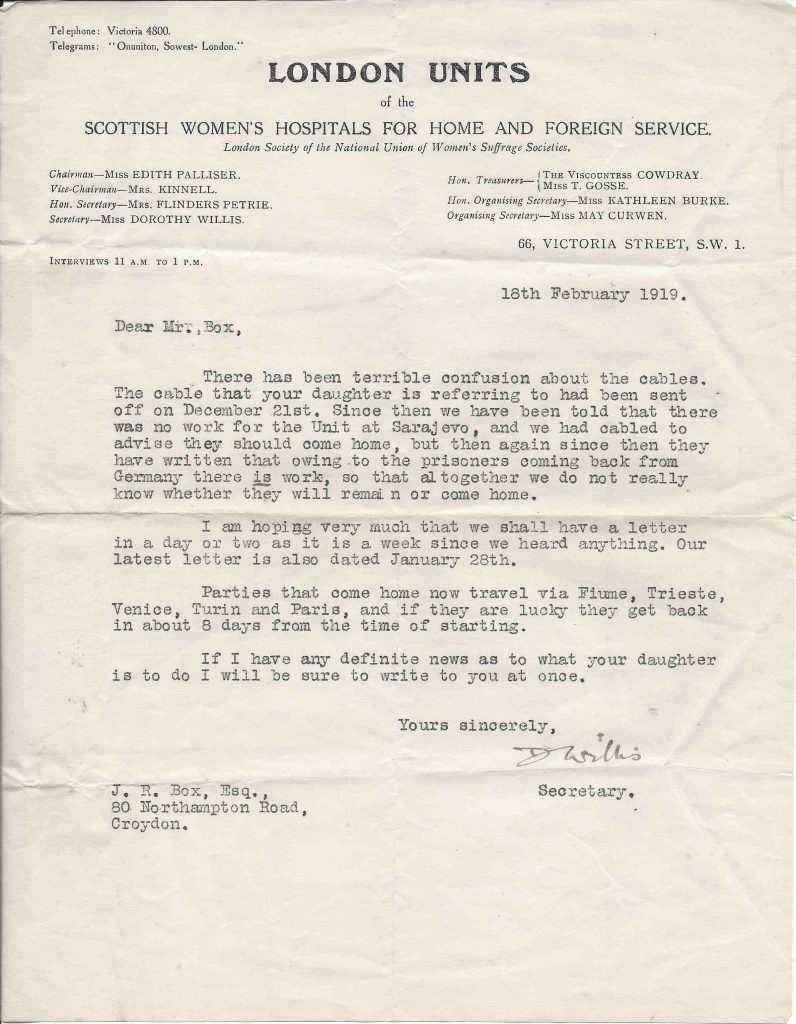 18th February 1919
Dear Mr. Box,
There has been terrible confusion about the cables. The cable that your daughter is referring to had been sent off on December 21st. Since then we have been told that there was no work for the Unit at Sarajevo, and that we had cabled to advise that they should come home, but then again since they have written to say that the prisoners coming back from Germany there is work, so altogether we do not really know whether they will remain or come home.
I am hoping very much that we shall have a letter in a day or two as it is a week since we heard anything. Or latest letter is dated January 28th.
Parties that have come home now travel via Fiume, Trieste, Venice, Turin and Paris, and if they are lucky they get home in about 8 days from the time of starting.
If I have any definitive news as to what your daughter is to do I will be sure to write to you at one.
Yours sincerely
D. WIllis
Secretary
J.R. Box Esq.
80, Northampton Road,
Croydon
Notes
Prisoners coming back from Germany
In her letter of 4th of February Margaret refers to Serbian prisoners from Germany who had not arrived yet.
During the war many Serbs had been captured, particularly as large parts of Serbia had been occupied by Austria-Hungary and Bulgaria.
As part of the arrangements of the Armistice, prisoners were released to their home nations, but while most would be able to return their homes, they had been held in crowded conditions where it was difficult to quarantine people to prevent the spread of disease, as well as the war wounds many would have had.
At the end of the war there were 28,746 Serbs held in Germany, so it would have been sensible to prepare hospital beds for some of them.