When we were young, Christmas was a very special time for my siblings and me. We lived in Edinburgh, but our Grandparents, and most of our relations, lived in the south of England, or even further afield. Although I have written about going to Pickwick for Christmas, my father's parents must have moved when I was quite young, as I remember being at Rest Harrow during the Winter of 1962-63, when the elder of my sisters was a baby, and the younger not born. (Although, when she was a small child and was told she did not participate in such great adventures she would protest 'I was there, in Mummy's tummy!'). Rest Harrow was snowbound, as was the whole village of Medstead, and my father had to walk to Four Marks for bread and milk. It is possible that we did not then go on to my mother's parents at Little Cucknells,
Our normal pattern was that we would travel from Edinburgh to Rest Harrow – usually by car, with the journey becoming swifter as the years passed – in the early days I believe the trip incorporated a Bed and Breakfast somewhere around Nottingham. I do also remember flying (in a Comet) and being put to bed, and then woken to be taken by taxi to the station to go down on the train – though that may be have been to Pickwick.
Pre-Christmas at Rest Harrow
On arrival at Rest Harrow there were several common events before Christmas. Grandpa would have bought a Christmas tree, which would be in a pot in the sun room, awaiting our artistic, or enthusiastic labours to decorate it. We eschewed the minimalist approach, and it was impressive how many of the glass baubles would still be there every year, despite having been put up by small children.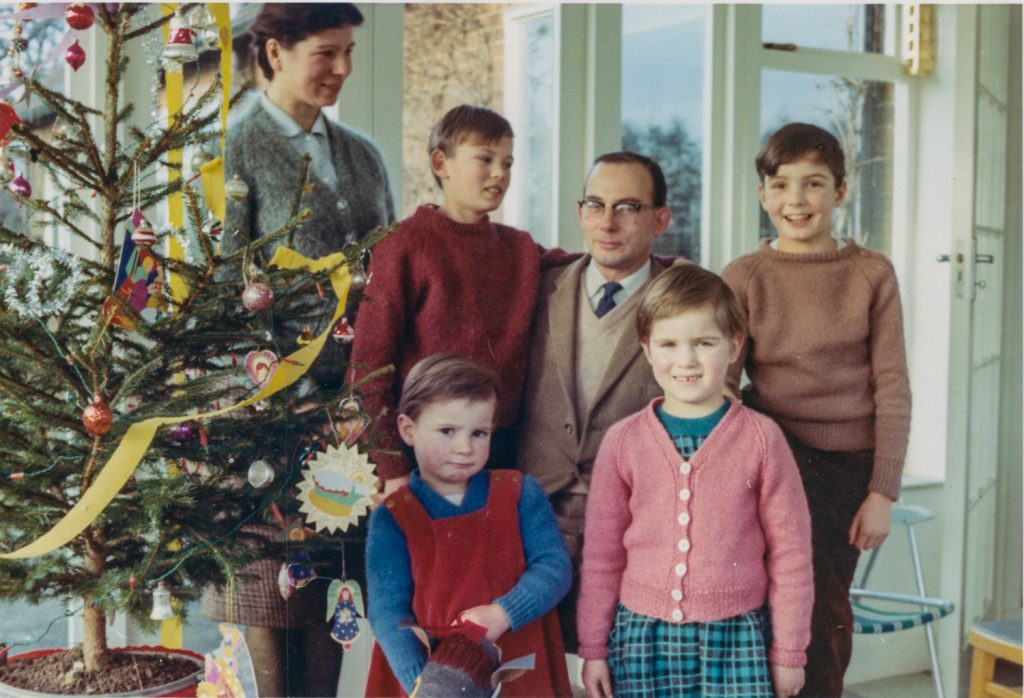 As my brother and I grew usefully tall we also had the honour of helping to decorate the large Christmas tree at St Andrews Church in Medstead.
The while family would also be involved, to varying degrees according to skills, in the preparation of Christmas dinner. My Grandparents approached gardening on a serious scale, so harvesting and preparation of winter vegetables was a communal activity, preparing sprouts, peeling carrots, parsnips and potatoes, as well has mixing (and tasting) cake ingredients. Aunty Jennifer always made her famous cheese straws, in a variety of shapes.
Christmas Day at Rest Harrow
We would wake on Christmas morning to find that, no matter how resolved we might have been to catch him in the act, Father Christmas had been in the night and managed to fill out stockings (we used Heriots school socks) with presents. It is possible that Mother Christmas might have taken some tips from her relative, George Braund, and switched the stockings for ones which had been filled earlier.
The stockings managed to achieve an impressive balance, considering our range of ages, between fairness and personalised interest. Several of our toys only really made sense as communal toys, even though we knew which specific parts were ours – examples of this were the Floral Garden, the Zoo (with Britain's Zoo animals) and the Farm (again Britains Farm animals, though with out of scale farm machinery. The stockings were filled in roughly the same order, and so opening them together we might have clues about what type of thing might be inside the individually wrapped parcels (in venerable wrapping paper). Recurring themes were
Some kind of small torch
A cub/scout/brownie/guide diary
A pencil
Notebooks
little sets of colour pencils
Chocolate coins (I suspect one bag was divided into four, and the balance became a delivery fee)
The aforementioned animals, parts of gardens and so on
A paperback book
Always a satsuma in the toe of the sock.
Opening the stockings often occurred on my parents bed, where they would be suitably impressed by the wisdom and good taste of Father Christmas.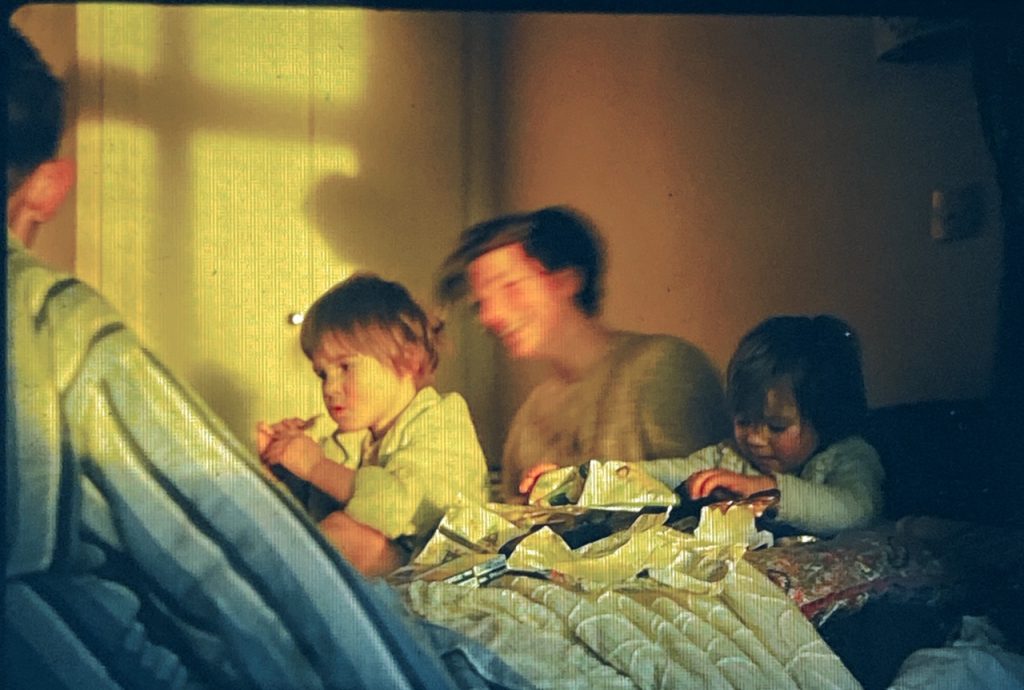 We would also show our new presents to Aunty Jennifer, who lived at Rest Harrow, and to Uncle Tim, who came from Geneva for the Christmas period. As a bachelor uncle – who had the opportunity to give us slightly less suitable toys (I remember a battery powered walking, noisy robot) Tim was relegated to the sofa bed on the lounge, where he may not have been having as restful a night. Despite this we felt it was our duty to bounce on him in the morning to wake him up. Some years later Tim married and had two daughters, and my brother and I relinquished the bedroom we had used, to sleep in the lounge. I remember being awoken on Christmas morning by the enthusiastic bouncing of two small girls, egged on from the doorway by their father, Uncle Tim.
During the morning my Uncle Michael and Aunt Fanny would arrive from London, and my Uncle Jeremy, with Aunt Claire, and her mother, Oma (Flemish name for Grandmother), and cousins Peter, Ian and Robert from Southampton or later Gosport. If the weather was fine we would go out into the garden.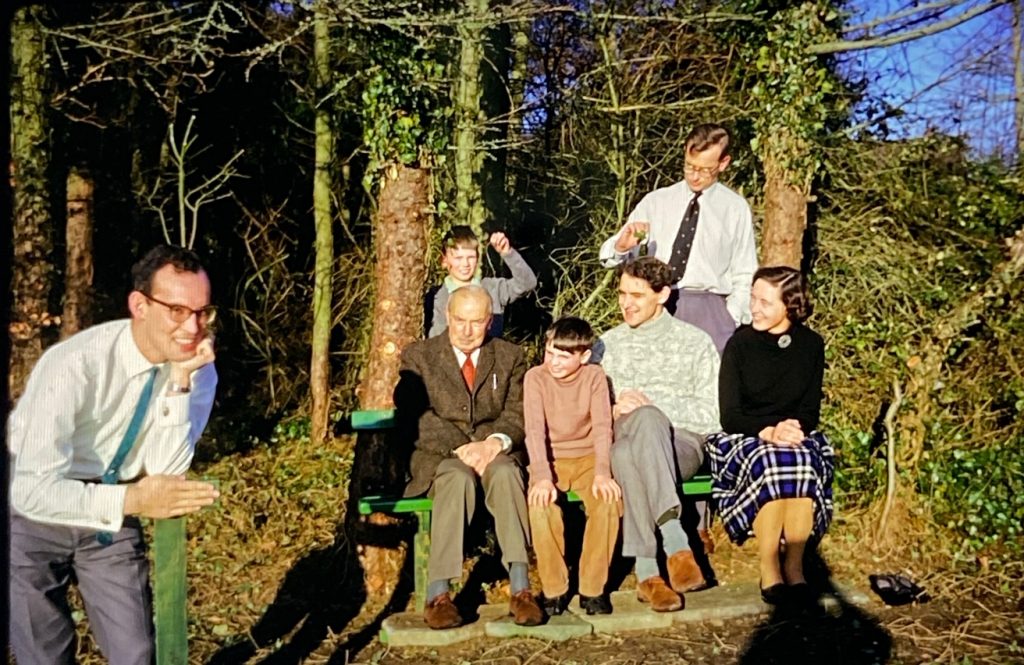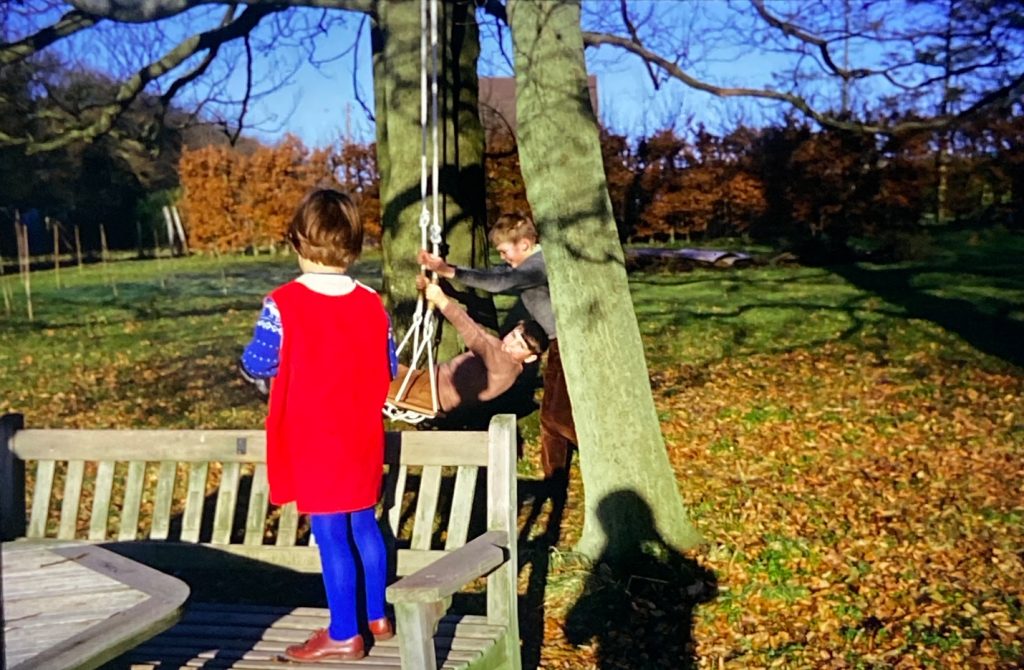 My Grandmother would make a quiche for Michael and Fanny, who were vegetarians, but the rest of us would be keen to try it, as well as the traditional turkey. Fitting about twenty people round the table was a challenge, but we managed (sometimes by having a children's table). The Christmas pudding had silver threepences cooked into it which were then exchanged for real money. Afterwards everybody helped clear up and wash up. We listened to the Queen's Speech on the radio, and there would be the traditional family photo, in the sunroom if the weather was bad, of outside if we could. In the early years this was my grandfathers prerogative, using a self timer on his camera, with varied results. There are a number of pictures of a Grandpa shaped space in the family group, and I am sure there should be some of the sky or the grass due to tripping over the tripod trying to reach that space. We then chatted, or played games until the prolonged departures of the day visitors, normally after even more food.
Entertainment at Rest Harrow
There was no television at Rest Harrow for several years, when they were common elsewhere, but there were plenty of books, including a full set of the Swallows and Amazons series, and The Far Distant Oxus. We also played games, my grandparents had a Deluxe Edtion Scrabble board, on a turntable. Aunty Jennifer was a whiz at Pounce, and we also played Pickwick Rummy. She also always had some kind of craft activity available, from candle making to painting. She was also headteacher of Herriard school, and would bring musical instruments back from school. She also had a guitar, which we would attempt to play – she would teach us some chords, but we would generally forget them by next Christmas and have to start again. My cousin Peter, an accomplished musician, sometimes played his violin.
The Christmas present from Aunty Jennifer to my brother and me was a trip to London, on the train, visiting famous sites, such as Madame Tussauds and the Post Office Tower – back in the days when you could eat at the top. We traveled on the Underground, very exciting for boys from Edinburgh, and ended the trip with a visit to Hamleys, where Great Aunt Peggy was managing director (though we were more impressed by the railway running round the big central staircase, the teddy bears the size of a grown up and other amazing toys)
Christmas at Little Cucknells
When we were young we did not really celebrate New Year, but had a second, quieter, Christmas with my mother's parents at Little Cucknels, in Shamley Green. Our interactions with Grandfather Box were limited – I only really remember him lying in bed in a downstairs room with the curtains closed, and greeting him awkwardly on arrival, and saying farewell when we left. Grannie Bee (My mother said it was because she was busy as a bee – though I assume the name really came from her being Box) cooked a second Christmas Dinner for us. She too cooked a Christmas pudding, but every piece came with a sixpence, courtesy of sleight of hand in the serving process.
Meals were cooked on the Aga, which also kept the kitchen and adjoining small dining/sitting room warm. I remember both at Little Cucknells and Rest Harrow (and at home in Edinburgh) that hot water bottles were part of the bedtime routine.
If the weather was good we could play in the huge, overgrown garden, or Little Cucknells wood, and if the weather was bad we had our new toys or books to read. Although the house was full of interesting antiques, such as the Bell of the Kishon, the longcase clock made by my Great, Great Grandfather – William Braund Box, and a chess table made by some ancestor – a model of this table made by the same person is in the Queen's Dolls house in Windsor Castle – they were not very interesting to children, though the copies of National Geographic, with their maps and pictures of exotic places gave plenty to read and look at.
We would also go and visit my mother's sister Aunt Sue, with her four boys, and her husband (until they were divorced) who I mainly remember for the smell of brandy and cigars, at their home in South Stoke, with Wolfie, the Wolfhound.
Somewheres and Anywheres
Receiving scans of Christmas past from my father's slides sent by my sister coincided with me reading 'The Road to Somewhere' by David Goodhart. (I am still in the early stages). The book relates the differences in attitudes to society, and life opportunities between the majority (about three in five), of Britons who still live within 25 miles of where they were born – the Somewheres, and the possibly less grounded, but more influential Anywheres, who lack the deep connection to a single community, although they may well be members of several less tangible communities. My father, for example, spent most of his life far from his London roots, but was a member of a small international community of Research Foresters.
A description of the book can be found at 'Anywheres and Somewheres' and another viewpoint at 'The Road to Somewhere by David Goodhart – a liberal's rightwing turn on immigration' Despite the reference to immigration in the title of Guardian review most of the Anywheres referred to in the book leave a home in Britain to go to university, and then move to wherever their life takes them. My Grandparents, on both sides, uncles, aunts, brother, sisters, cousins, nephews and nieces fit the profile of Anywheres, as do many of the people mentioned in this blog, from the tragically orphaned Williams sisters to the Famous Freemans and Renowned Rebbecks.