When I was very young my parents gave me a toy wheelbarrow, probably around 1959. Although there are no markings on it, it was almost certainly made by Lines Brothers, with whom I have a family connection. Three of the Lines Brothers were my Great Uncles (three Lines make a triangle, hence the name Tri-ang, which was also used as a brand name. The fourth brother was my Grandfather, George Edward Lines, who did not, initially, follow his brothers into the toy business, but, after fighting in the First World War, went into farming. He did then go to work with his father, Joseph Lines (of G&J Lines, rocking horse makers) and then went on to work for Tri-ang.
My parents were both keen gardeners, and I, and my siblings, enjoyed being in the garden, and the toy wheelbarrow followed us from Balerno, where we lived when I was born, to Juniper Green, and when my parents retired and moved to High Ham in Somerset the wheelbarrow went with them. There my nieces and nephews could play with it in the garden when they were of an age appropriate to its small size. As they outgrew it the wheelbarrow stayed in the garden room in High Ham, until the time came for my siblings and I to clear the house. I had fond memories associated with the wheelbarrow, so took it to Oxford.
Although in good condition for a toy which had been much played with over nearly sixty years, the plywood base was starting to delaminate, so I removed the old base.
I cut a new plywood base, and gave it a few coats of interior varnish to seal it, and then a couple of coats of yacht varnish, and then screwed the base onto the top.
Useful power drill and screwdriver

The screws have to be angled to go into the top
A small step ladder was just the right size to support the legs as the top was attached.
Wheel went one side and legs the other

Assembled wheelbarrow
Replacing the base is not the first repair. The legs are different, and I suspect one was replaced by my father, Roger Lines.

Carpenters
I am writing this at Christmas, when we are hearing a lot about Joseph, the carpenter, and working with wood has good associations for me.
My father was a Research Forester, but he did not just grow trees, he enjoyed working with wood. He built the bunk bed my brother and I slept in, the frame which held the swing in the garden and so on. In our house in Edinburgh my father had a workshop, which always smelled of a mixture of wood shavings and a complex mix of varnish, oil and paint.
My Grandfather also had a workshop, with a massive workbench, which had been the family Morrison Shelter during the Second World War.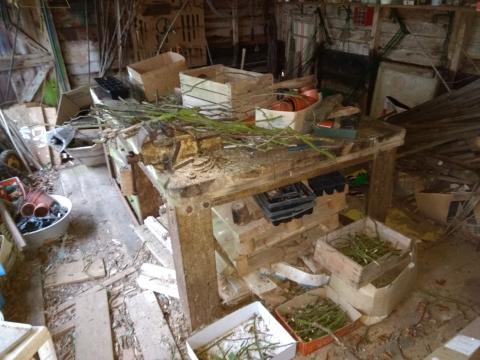 My Great Great Uncle George Lines (of G&J Lines) was a real carpenter, which is where their rocking horse business originated.
Toys
We may have reached, at least in our wealthy western society, the age of 'peak stuff', and the appeal of having new things purely for their novelty seems to be running out.
As I am now much too large to use a wheelbarrow of this size, after a trip into the garden to meet its big brother, I donated the wheelbarrow to friends with young children who will be able to enjoy it properly.
As in the film Toy Story I am sure the wheelbarrow will be much happier being played with.
Toy Story has a particular resonance with me as I have been a user and developer of the Debian distribution of Linux for a long time, and Debian releases are named after characters in Toy Story. This connection between the real world of wooden toys and the more abstract world of computers and the internet reminds me, in turn of the James Burke TV series Connections. Although I did not start the post by saying 'this is a blog post, written on a computer' it was, thus referring back to where I started seems appropriate.