I have some pictures of my Grandfather, George Edward Lines, taken by my cousin some years ago, from pictures in a family album. I hope to add more information about who is in them as I work it out.
The Lines Family group picture in 1902
My Grandfather was one of four brothers and four sisters. I believe the distinguished gentlemen in the centre is my Great Grandfather Joseph Lines. His sons were:
His daughters were
Edith – (1880-1957) – Married James Rae
Mary – (1883-1958) – Married Ralph Freeman
Rosa – (1885-1889) – died age 4
Winifred – (1890-1983)
George Edward Lines in Uniform
The following pictures show my Grandfather in uniform, during his Army Service in WW1.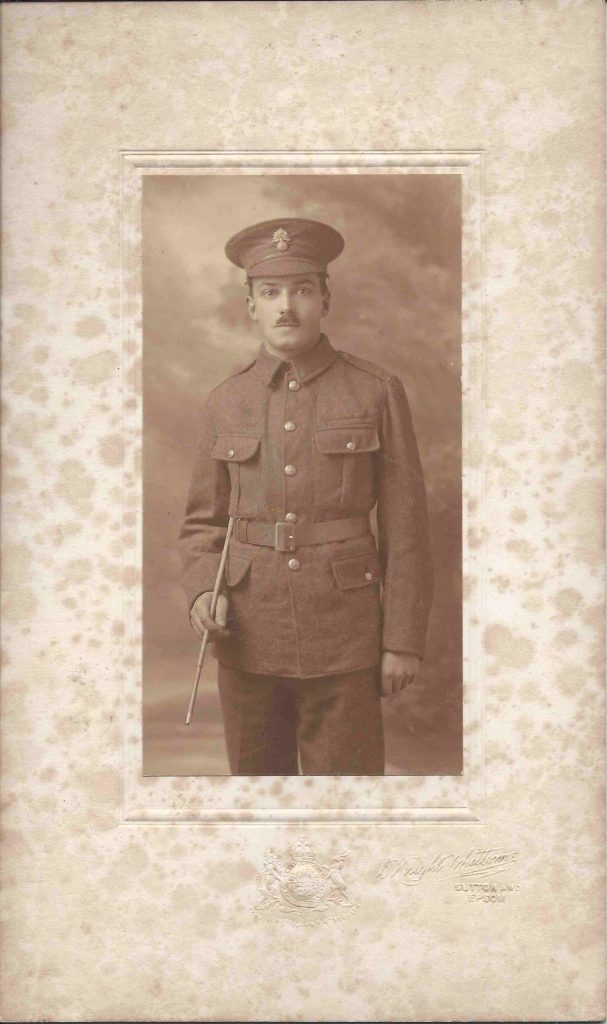 I think, from the cap badge, that this picture was taken during the short time between September and December 1914 when he was a Private in the Royal Fusiliers, as indicated in his Official War Record.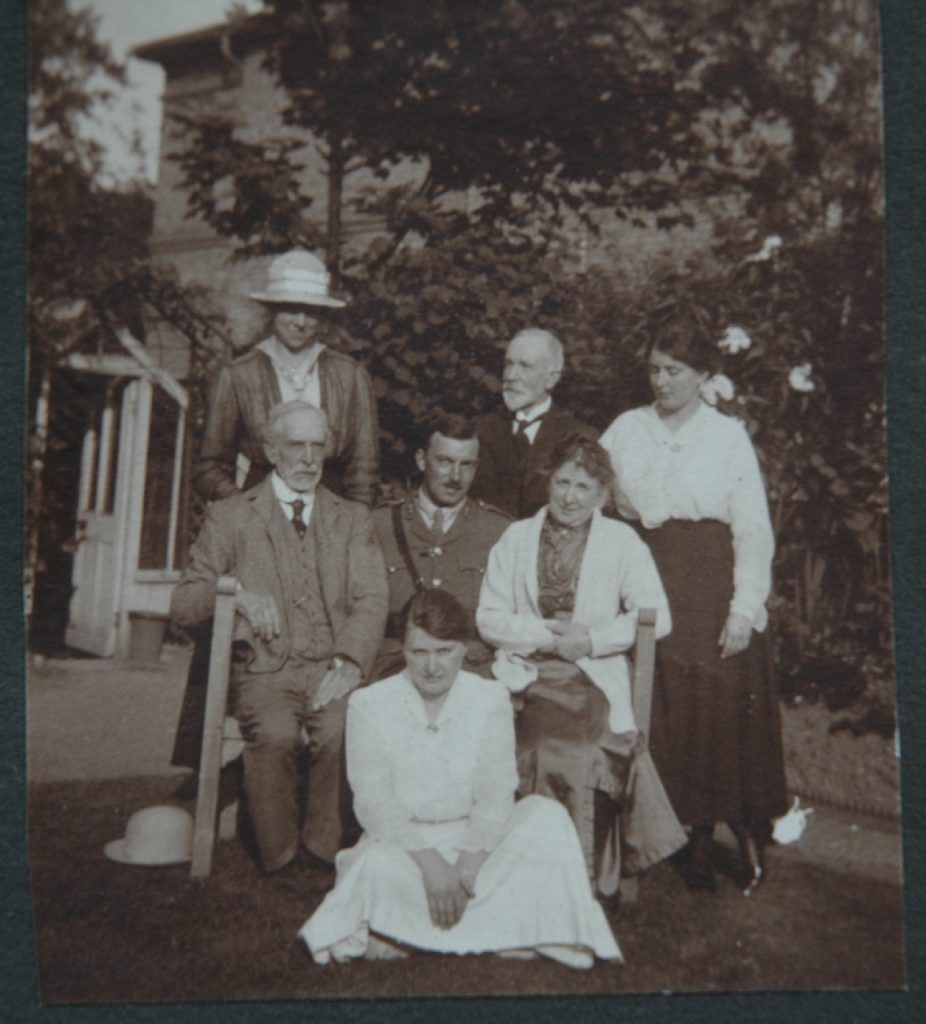 My Grandfather, George Lines is in the centre, possibly with his father Joseph behind to the right, and his possibly his uncle George to the left, and his mother Jane nee Fitzhenry on the right. My Grandmother sitting on the ground in front. I am not sure who the lady on the left wearing the hat, or the lady to the right of Joseph are. Some time between 1914 and 1918, possibly at 144 Lordship Road.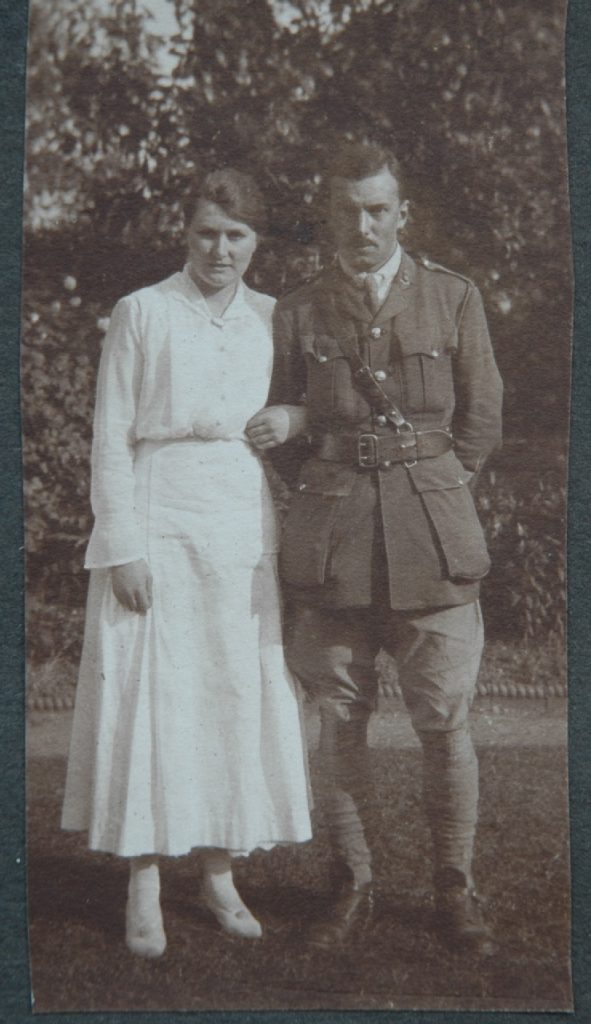 My Grandfather on the right again, with my Grandmother on the left.
My brother has pointed out that "I think one of the photos of Grandpa (the one standing with Granny) shows that he's wearing spurs with his uniform (you can see the straps and buckles over his shoes – which seem to have very long tongues but these would help stop the spur straps from rubbing. This would tie in with the time he spent with the Field Co at Chesham, looking after the horses and training soldiers to ride – and may help date the photo. I can't think that he'd be wearing them otherwise. He seems to be wearing breeches/jodphurs and puttees but this may have been more standard for an officer at the time. I can see the Royal Engineers badge but cannot see epaulette badges or other insignia of rank to help. The R.E. regiment might be able to help I guess, although I think that standardisation of uniform may have actually varied quite a bit, particularly with officers adopting their own versions!"
One of my cousins has made a fascinating video – a TEDx talk – about tracking down Australian soldiers in WW1 from an archive of pictures of them taken just before they left to join the conflict. It can be seen at https://youtu.be/WxDgTw1Zb-c
The letter my Grandfather wrote from Bury when training was in February 1915, although the flowers in the garden suggest it was later in the year than that. His official war record does not say when he was first posted to France, but this could be a family get together then, or possibly when he returned to the front in August 1916 following his being shot in February 1916.
My Grandfather and Great Grandfather.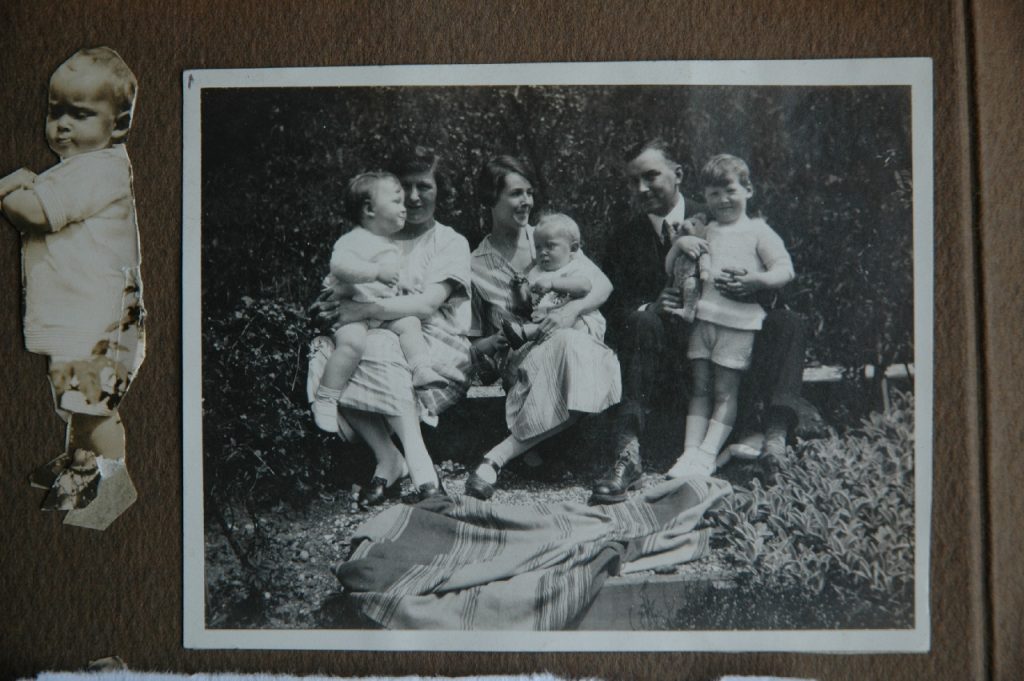 Family picture, probably about 1929, probably either at 225, Fox Lane, or 141, Lordship Road. The lady on the left could be Tudy (Brenda Keeley nee Stevens), my Grandmother's sister. The children are (probably) Michael, Roger and Jennifer.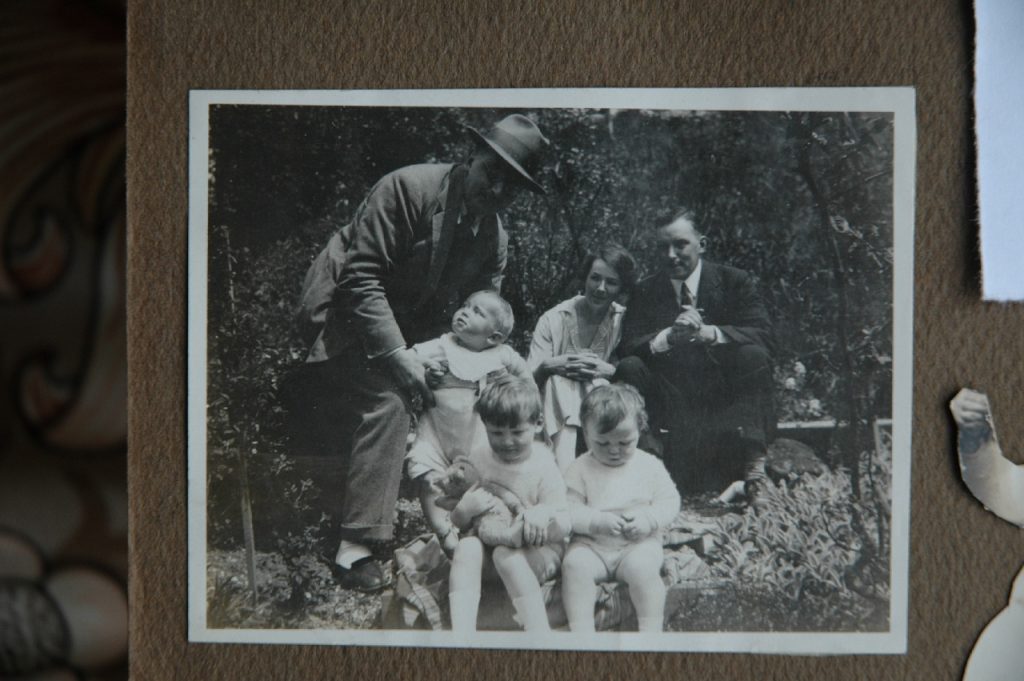 The same place and time, the man in the hat might be Thomas (Tom) Keeley (1897-1959), Tudy's husband.