My Great Aunt, Margaret Box was a nurse with the Elsie Inglis Unit of the Scottish Women's Hospitals, one of a group of indomitable women who went out to give medical help during the First World War. Margaret travelled to Salonica and Serbia with the unit, and in January 1919 she was working in the hospital in Sarajevo. Being so far from home, letters and parcels were very important to the nurses, and to their families, which is why the Box family kept many of the letters Margaret sent home, and I am transcribing them into these posts. This is a collection of letters, written in January 1919, about letters, and parcels, and trying to post a tartan tie to Margaret.
Please send Margaret a tie
On the 5th of January 1919, John Box sent the following letter to the Scottish Women's Hospitals London Office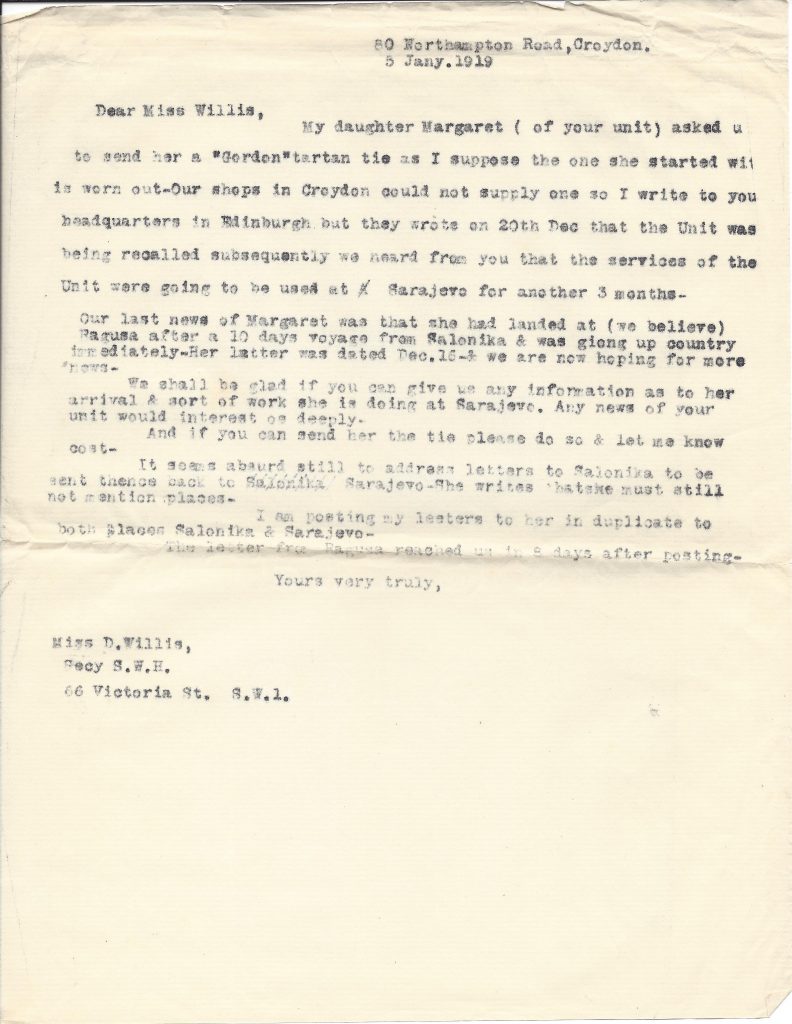 50, Northampton Road, Croydon
5 Jany. 1919
Dear Miss Willis,
My daughter Margaret (of your unit) asked us to send her a "Gordon" tartan tie as I suppose the one she started with is worn out. Our shops in Croydon could not supply one so I write to your headquarters in Edinburgh but they wrote on 20th Dec that the Unit was being recalled subsequently we heard from you that the services of the unit were going to be used at Sarajevo for another 3 months.
Our last news of Margaret was that she had landed at (we believe) Ragusa after a 10 days voyage from Salonica & was going up country immediately. Her letter was dated Dec. 16. We are now hoping for more news.
We shall be glad if you can give us any information as to her arrival & sort of work she is doing at Sarajevo. Any news of your unit would interest us deeply.
And if you can send her the tie please do so & let us know cost.
It seems absurd still to address letters to Salonica to be sent thence back to Sarajevo. She writes that she must still not mention places.
I am posting my letters to her in duplicate to both places Salonica and Sarajevo.
The letter from Ragusa reached me 8 days after posting
Yours very truly
Miss. D. WIllis,
Secy S.W.H.
66, Victoria St. S.W.1.
S.W.H. Reply
They replied on the 7th of January saying
Dear Mr Box,
I am just sending out the enclosed note to everyone. I shall may be sending out some more Tartan ties shortly but perhaps it will be simpler if you do care to send one at all. They are very difficult to get now. This one had to come from Ireland. Price 3/- I think you must not send it by embassy bag but by the other route
Yours sincerely
D.Willis
This was the enclosed note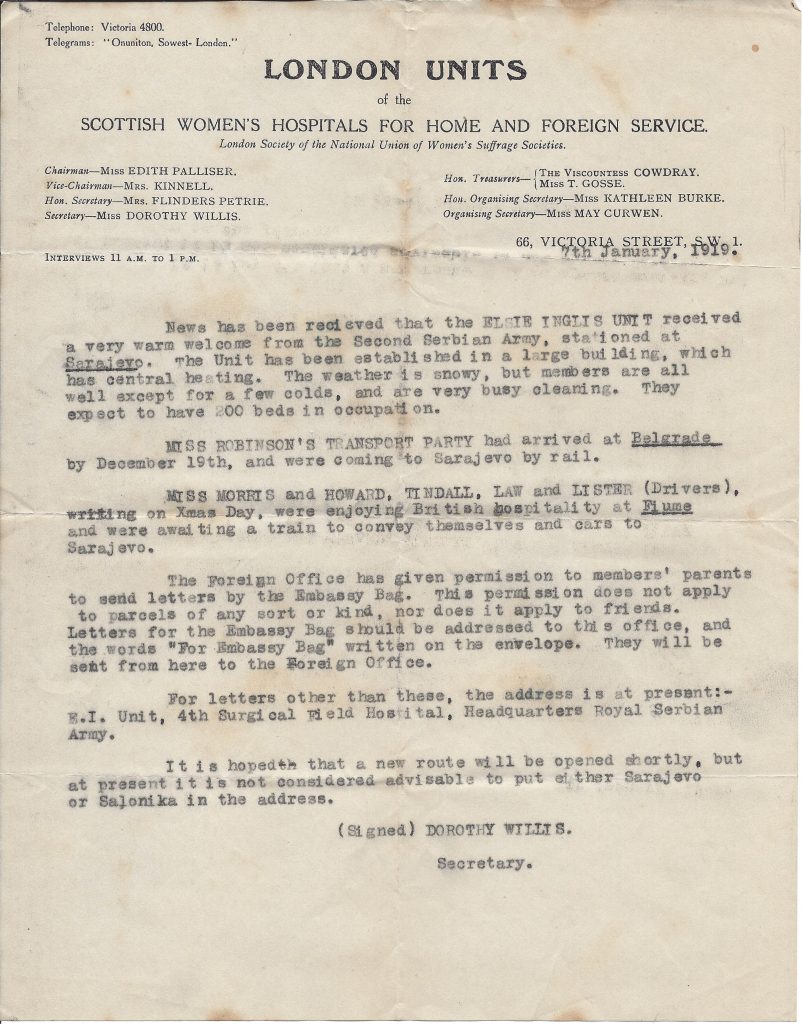 66, Victoria Street, SW1
7th January 1919
News has been received that the Elsie Inglis Unit received a very warm welcome from the Second Serbian Army, stationed at Sarajevo. The Unit has been established in a large building, which has central heating. The weather is snowy, but members are all well except for a few colds, and are very busy cleaning. They expect to have 200 beds in occupation.
Miss Robinson's transport party has arrived in Belgrade by December 19th, and were going to Sarajevo by rail.
Miss Norris and Howard, Tindall, Law and Lister (Drivers), writing on Xmas Day, were enjoying British hospitality at Fiume and were awaiting a train to convey themselves and cars to Sarajevo.
The Foreign Office has given permission for members' parents to send letters by the Embassy Bag. This permission does not apply to parcels of any sort or kind, nor does it apply to friends. Letters for the Embassy Bag should be addressed to this office, and the words "For Embassy Bag" written on the envelope. They will be sent from here to the Foreign Office.
For letters other than these, the address is at present :- E.I. Unit, 4th Surgical Field Hospital, Headquarters Royal Serbian Army.
It is hoped that a new route will be opened shortly, but at present it is not considered advisable to put either Sarajevo or Salonica in the address.
Signed DOROTHY WILLIS
Secretary
In the News
News of the Unit featured in The Daily Express of January 8th 1919, and an accompanying letter from the Scottish Women's Hospitals, which recapped the information given above.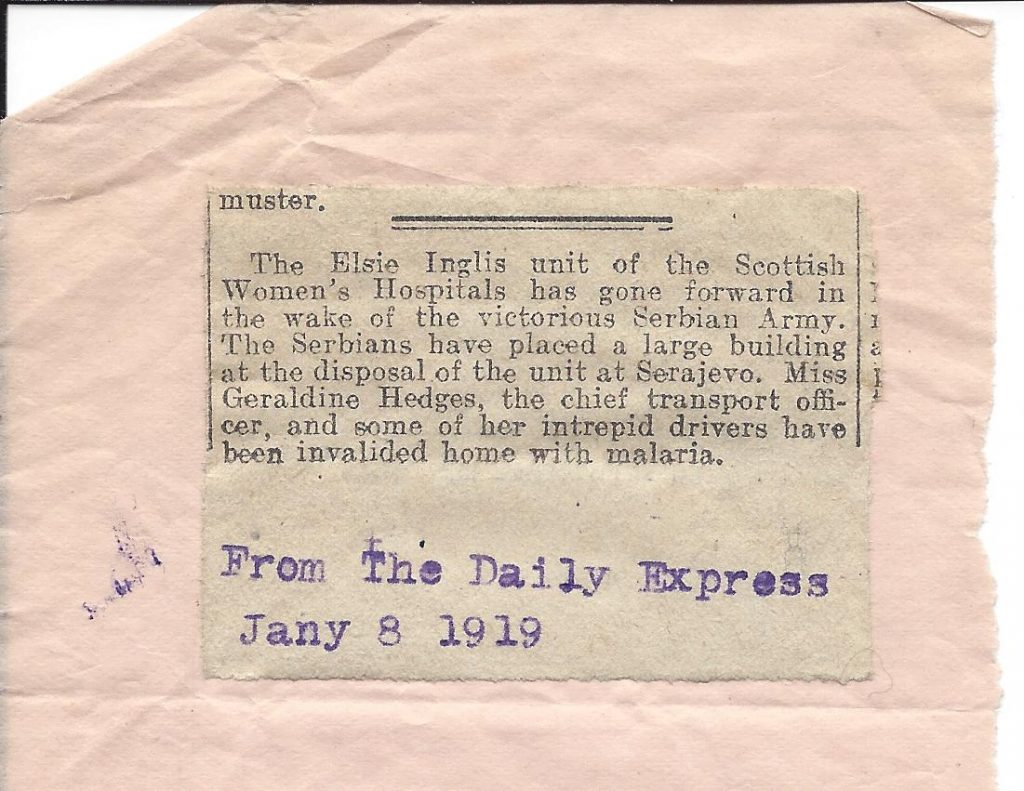 The Elsie Inglis Unit of the Scottish Women's Hospitals has gone forward in the wake of the victorious Serbian Army. The Serbians have placed a large building at the disposal of the unit at Sarajevo. Miss Geraldine Hedges, the chief transport officer, and some of her intrepid drivers have been invalided home with malaria.
Parcel Post
On the 14th of January John Box sent a parcel to Margaret – hopefully this was the tie, finally on its way and a happy ending to this saga.
Notes
The Sarajevo Hospital
Margaret gives her first impression of the hospital in her letter of the 19th December, where she mentions the radiators, and how large it is.