My Great, Great, Great, Grandfather, Justus Reitze was born in Germany around 1800. The information I have about him is rather sketchy, for example I do not know where in Germany he came from, or when he came to Britain.

The early 19th Century was an unstable time in Germany. In 1805 during the War of the Third Coalition Napoleon's armies were fighting in most of the area between Munich and Frankfurt, mostly against Austrian armies. Even Hanover, the historic home of the royal family of the time (George III was also Elector of Hanover), was occupied by Napoleon's forces. The war would have been very disruptive for the civilian population and many people must have been displaced.
Even after the formation of the German Confederation in 1815, bringing a respite from wars, there were other reasons to move. Germany was experiencing its own demographic transition, and the population grew 60% from 1815 to 1865. As I wrote about in the post about Amazing Love, Demographics and Mass migrations this also leads to emigration, in Germany, 1.2 million emigrated in the 1850s.

Whatever his reason, Justus Reitze came to England at some point and set up as a baker, which is shown as his occupation on his marriage certificate. This is the earliest document I have about him.
Justus married Elizabeth Kleinhen at St Matthews, Bethnal Green on 15th of February 1826. He would have been about 26. She was younger – I do not have a birth certificate, but the 1841 Census gives his age as 40 and hers as 30, (but ages were rounded down to the nearest 5 years) so she would have been between 16 and 21. The Marriage Act of 1753 required the consent of the parents for participants under 21, however the witnesses were Adam and Caroline Kleinhen, presumably her parents. I have not found a birth record for her, but the 1841 Census shows her as born in the same County. Adam Kleinhen may have been from Baden.

Elizabeth gave birth to a son, Henry, on 21st Jaunary 1827, and he was baptised at St Matthews on 11th March. Fortunately St Matthews is one of the places which adds the date of birth to the baptism register.

On 26th August 1828 Elizabeth Reitze, my Great Great Grandmother, was born, and she was baptised on 12th October 1828.
On 25th September 1830 another son, John, was born, and baptised on 7th November.
By the 1841 Census Justus, his wife Elizabeth, and children Henry and Elizabeth (but curiously not John – who should have been 10, so he may have died young) were living in a house in Bethnal Green. I think they have a 50-55 year old shopman, John Peters (who might have been employed to deliver bread) and Eliza Hagis, a 15-20 year old housemaid as well.
A court case, heard at the Old Bailey  on 1st March 1847, gives some interesting insights.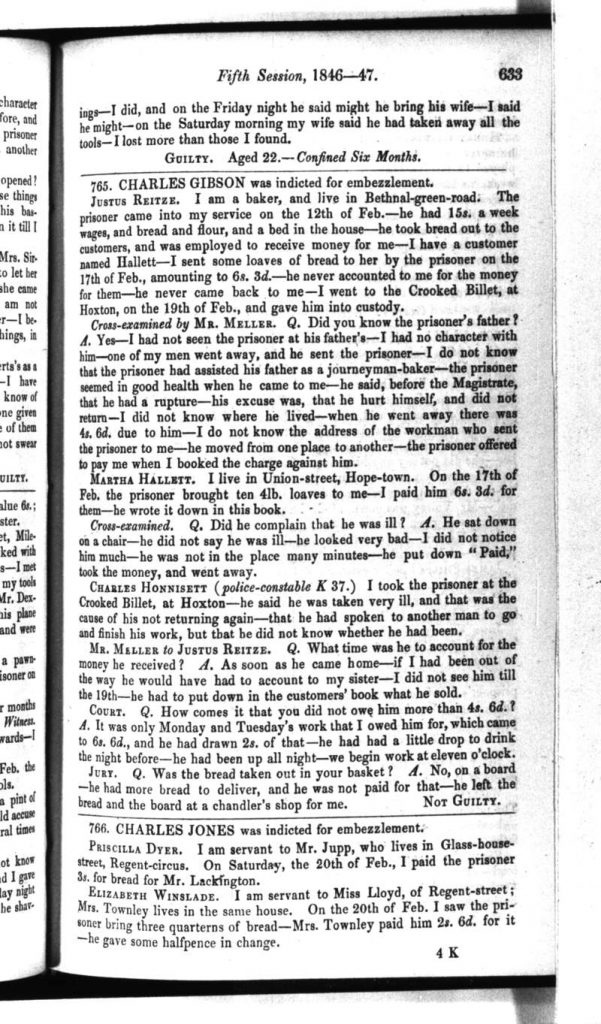 Charles Gibson, the accused, was living in the house with Justus, as apparently was Justus's sister – I have no idea who she was and I think this is the only reference to her. The Crooked Billet, where the arrest took place, closed in 1938.

On 2nd June 1846 his daughter Elizabeth married William Webster at St Stephen, Coleman Street. William Webster (1823-1888) was a Pastry Cook in the 1851 Census, so he and Elizabeth probably met via baking.
I can not find Justus (or Elizabeth) in the 1851 Census, but he does appear in the 1851 Register of Electors. This shows his address as 6, Baden Place, Bethnal Green, and that he owns two freehold houses, shown as "Thurlow-place,Green-street and Globe-street, Patch and Lemay tenants". The 1832 Reform Act extended the vote to adult males owning land worth more than £10. Baden Place no longer exists but it led off Andrews Road (OSM).
Around October 1853 Justus's wife, Elizabeth died, after 27 years of marriage.
In the 1856 Post Office Directory he was listed as a Baker at 49, Green Street, Bethnal Green.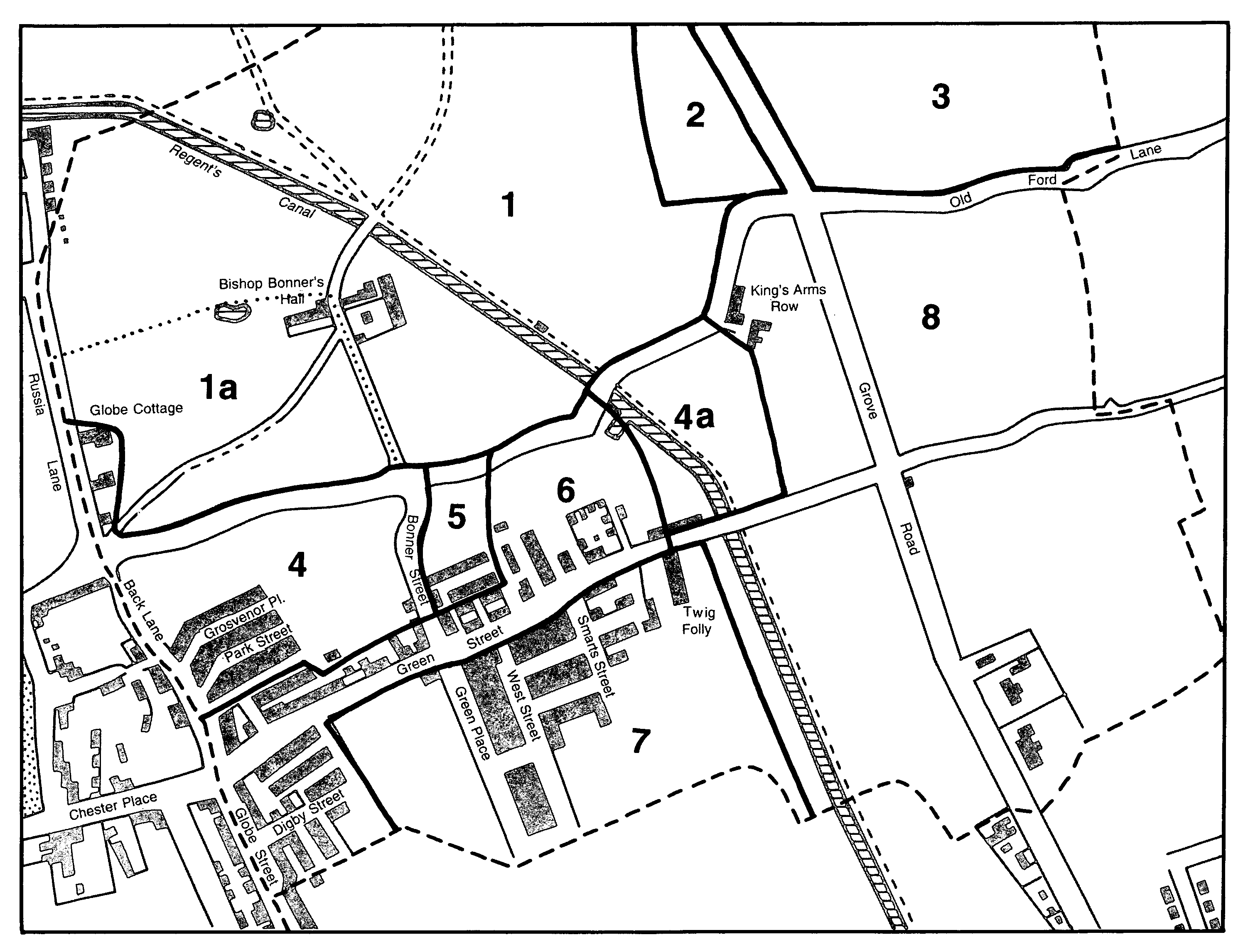 Green Street no longer exists, but click the map, or this link, for more infomation about its history. This would be one of the properties  he owned on his voter registration.
Also listed as a baker in the 1856 directory was John Reitze, presumably his son (if John did not die young), as he was at 24, Globe Terrace, Globe Road, Mile End (OSM). This was probably the other property Justus owned.
By the 1861 Census Justus was living at 9, Adelphi Terrace, Old Ford Road, Bethnal Green, with a 46 year old housekeeper.  Alelphi  Terrace no longer exists but it led off Old Ford Road (OSM) which still does. According to British History Online "terraces were built fronting northward on Old Ford Road from 1845: George's Place and Adelphi Terrace west of the junction with Bonner Lane, and Park Terrace to the east." (not to be confused with the other Adelphi Terrace).
He moved some time after that to 46, Sewardstone Road (OSM), where he died on the 13th December 1890. His will was proved by Joseph Eglese of Cornhill in the City of London, Silversmith, and William Webster of Gracechurch Street, now a Confectioner, and Justus's daughter,  now Elizabeth Webster. His effects  were under £1,500 . Using the calculator at www.measuringworth.com this would be worth from £129,000 (Retail Price Index) to £2,640,000 (share of GDP) in 2015 terms. Not bad for an immigrant baker.