The Lines Family produced many plays, the programmes for some of them have survived and are produced here – I am not sure what order they should come in.

Programme
    Cinderella
Performance at 5.30 p.m.
        Mr Lines
                     Cinderella
   By the Anne Boleyn Dramatic Club


Cast:


Cinderella ....................Jennifer Lines
Prince Charming ...............Roger Lines
The Ugly Sisters ..............|  John Worker
                               |  Michael Lines
Godmother .................... Pamela Worker
Page ......................... Jeremy Lines
   ---------------------------
Scene I  - The kitchen of the Ugly Sisters' House
Scene II - The ballroom
Scene III - The kitchen
  -------------------------
Costumes by Madame Worker
The Hall, kindly lent by Madame Lines

This must have been fairly early as Tim is not in the cast, and the family were presumably living at Anne Boleyn's Walk, Cheam. (OSM)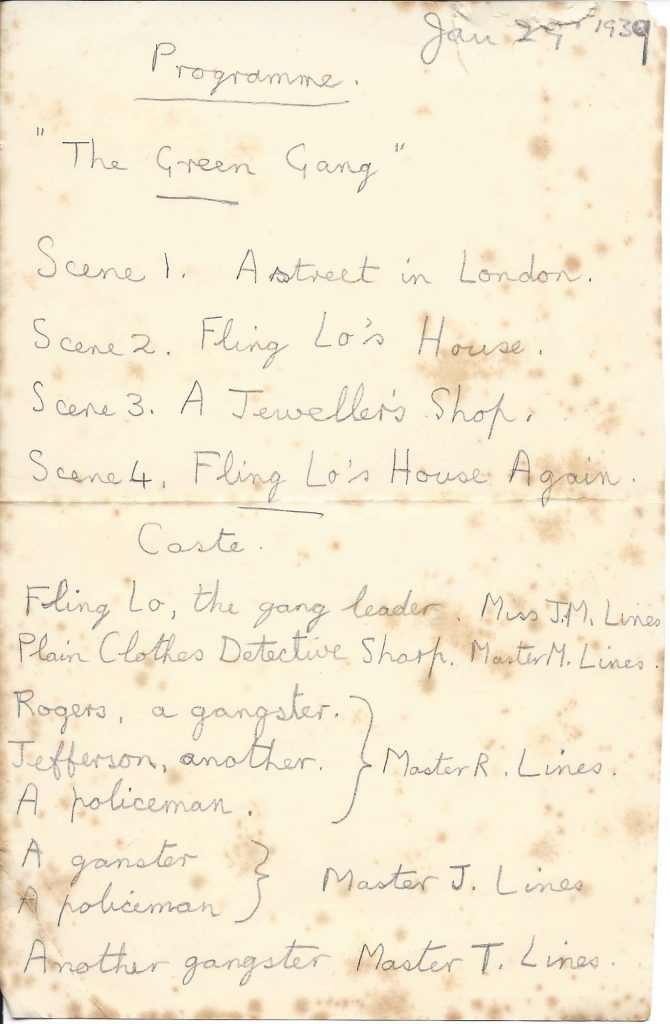 This one was presumably performed on January 29th 1939.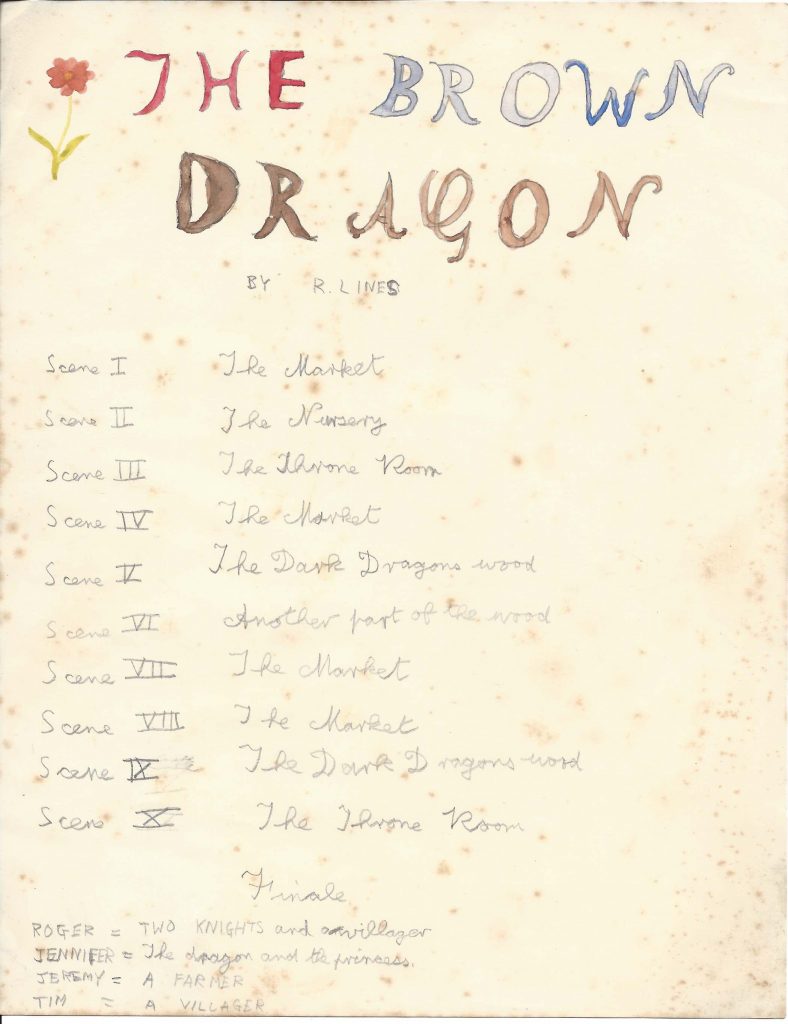 Michael is not in this one, but Roger is not only the author, but plays two knights and a villager.
Salcombe Christmas Entertainment 1931
The school Christmas activities. Selective transcriptions follow.
                      Programme
   "SALCOMBE"
      Avenue Road
         Southgate
Saturday 5th December 1931
   3 o'clock
Salcombe is still a school in Southgate, (OSM) founded in 1916, and prepares for entry to, amongst others, "the highly competitive Dame Alice Owen's School," which is where my Grandfather went. It had the same headmistress – Miss Ethel Deakin – from 1916 to 1975.
3  RECITATION   "Mr. Gardener and Mr.Sweep"
             MICHAEL LINES
...
10                 "Summer"
....
                   Butterflies
   DAVID BAKER    NICK FLOWER    ROGER LINES
...
   ROSS MCWHIRTER   NORRIS MCWHIRTER  MICHAEL OGLE
...
My Uncle Michael has a solo piece, and my father, Roger, has probably his first stage appearance, as a Butterfly.  Notable fellow butterflies were Ross and Norris McWhirter, twin founders of  The Guiness Book of Records.

17 PLAY
   "Duke of the Christmas Daisies"
      Adapted from "The Little White Bird"
      by kind permission of Sir J.M. BARRIE
...
            Trees
 KEITH ROWAN       MICHAEL LINES
...
My father is not in this play, although a part as a tree would have been appropriate, given his later career in Forestry.