The Elsie Inglis Unit of the Scottish Women's Hospitals was one of 14 Units of women who went abroad to provide medical care during the First World War. My Great Aunt, Margaret Box went to Serbia as a nurse with them. By the end of November 1918 the war had ended and Margaret had moved round Serbia with the Unit. During this time she wrote letters home telling her family some of what her life out there was like, and I am scanning and publishing them on this site.
On the 29th November 1918 the Scottish Women's Hospitals wrote to my Great Grandfather, John Box, to tell him that the Elsie Inglis Unit has been recalled, so Margaret should be on her way home.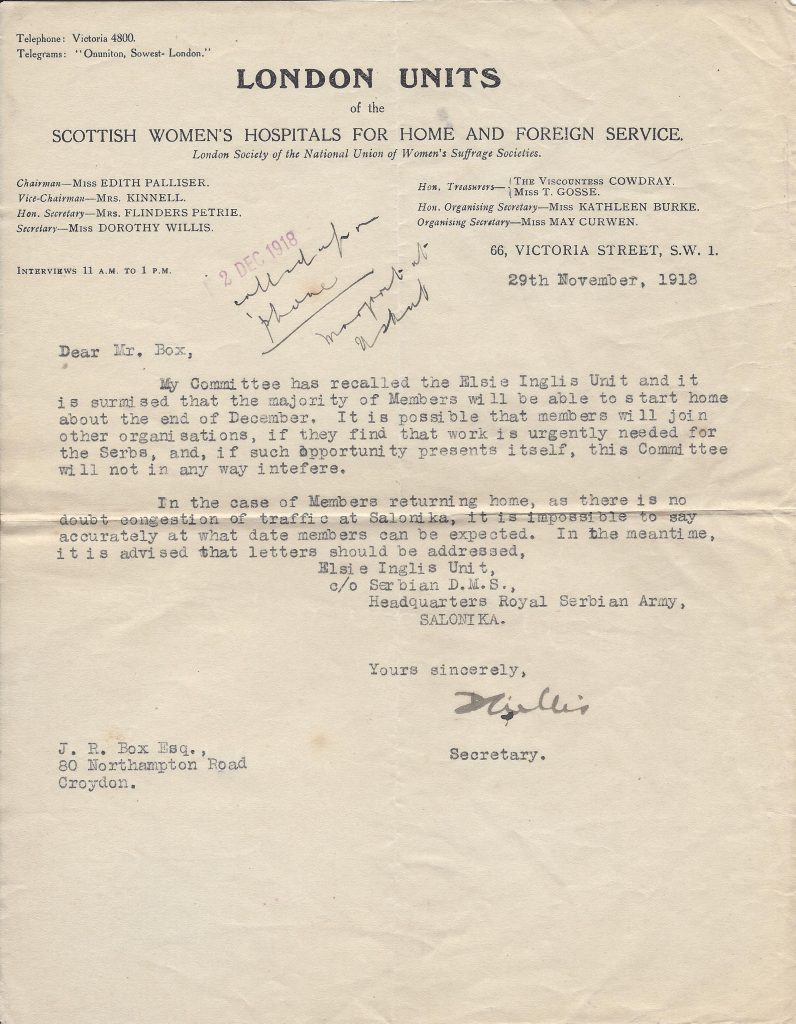 Notes
Telephones
I think John Box's note says "called up on 'phone – Margaret at Uskub"
Although the telephone had been invented in the 1870's, with the UK's first regular telephone service dating back to 1877, they were probably still quite rare in 1918, however John Box may well have found one useful in his business as a nurseryman.
An active campaigner for Women's Suffrage, her war work was commemorated by a bed in the maternity unit of the Royal Free Hospital.
As well as her good works in supporting nursing, she and her husband donated Cowdray Hall (a concert venue) to the City of Aberdeen.
She took a break from being a prominent Egyptologist to support the Scottish Women's Hospitals during the First World War.