My Great Great Aunt, Anne Williams, was looked after by her Uncle George Braund (1812-1901), who had a son, George Percival Braund (1865-1933), and he in turn had a son – George Roughton Braud (1903-1961).
Like his father he went to Charterhouse School.
On 28th July 1931 he married Kathleen Honor Mary Sessions, daughter of Harold Sessions.
Like his father and grandfather George Roughton Braund might have started off in the hosiery business, though by his marriage in 1931 he was a manager for British Petroleum. However his hobby and interest was in magic. He was persuaded to turn professional by Russell Swann, as described in the George Baund entry in Magicpedia.
He was a member of the Magic Circle.
A frequent performer at Magic Circle concerts, he played then in the character of a bumbling clergyman.
He continued as a magician with the services throughout the war (through which he was a Captain) performing for the Entertainments National Services Association.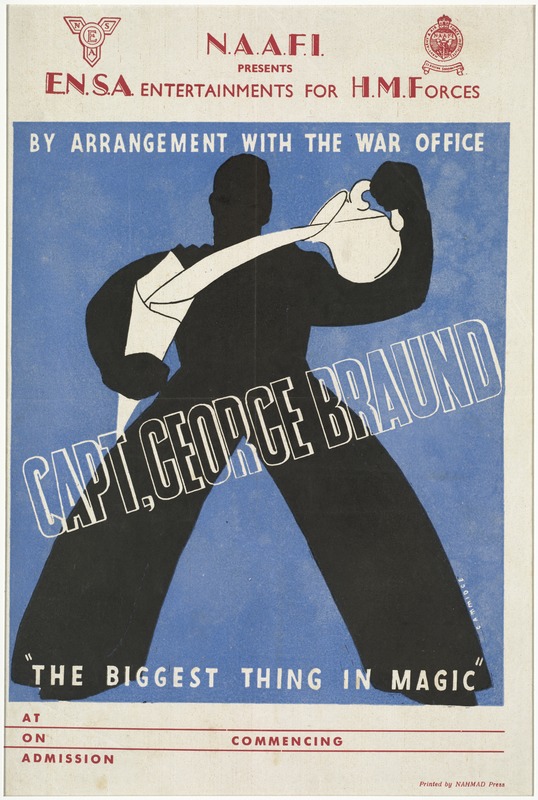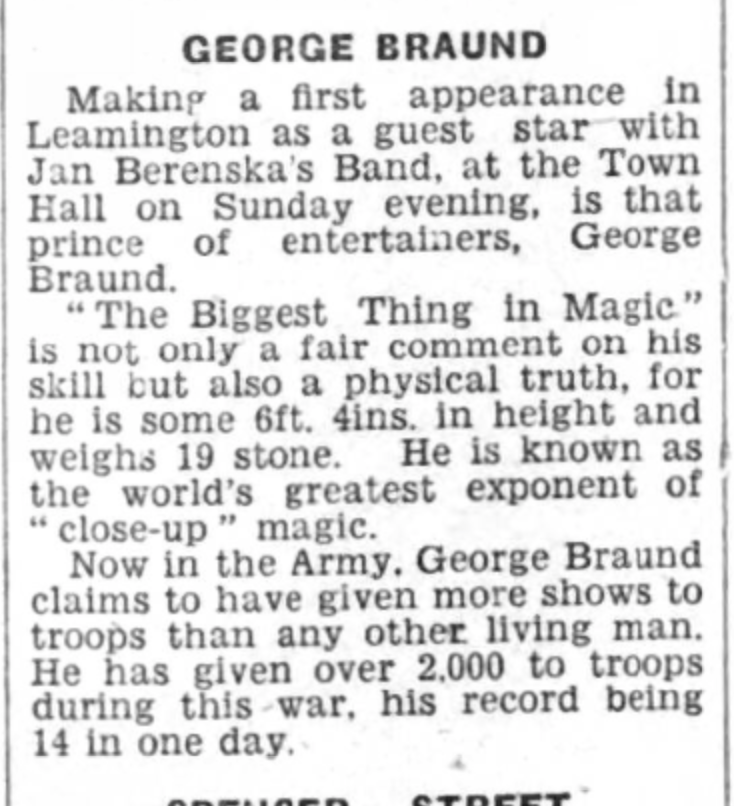 Although living in Kensington from around the early 1930s, Loughborough must have been a bit like playing to a home audience, as it was where he was born and brought up (apart from going to Boarding School in Kent, when he was aged 7)


He was on the BBC Television programme 'Stars in Your Eyes' – broadcast at 15:00 on 14th July 1947.

He was the featured magician in the June 1951 issue of The Gen Magazine of Magic and Magicians.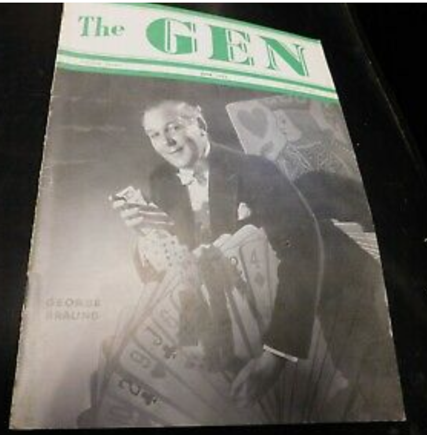 He was on the BBC Television programme "It's Cabaret Time at the Top-Hat Rendezvous" – broadcast at 20:00 on 29th March 1952.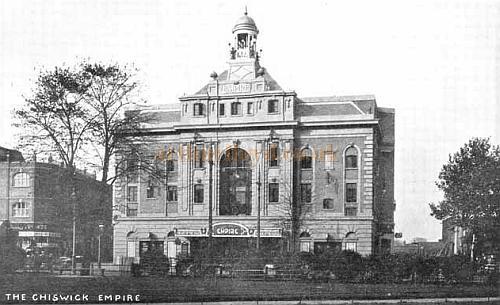 He appeared in the Chiswick Empire for a a week in 1952, starting Monday 30th June, alongside Jill Ireland, and Alfred Marks. Julie Andrews was originally billed to appear, but was replaced by Kay Cavendish.
In the 5th February 1955 issue of Billboard magazine, Bill Sachs wrote that
George Bruand, the London comedy magician, and and Julius Sundman, Finish wizard, who was over here last year, engaged in a magic session recently in Helsinki, Julius' home town.
In the 4th June 1955 issue of Billboard magazine, Milbourne Christopher wrote
First magician I saw in London was my old friend George Braund at Oddenios's. He patters along with vanishing cane, rope and silk tricks and a prediction on a ball of wool.
He was on the BBC Television programme "The Caravan" – Broadcast on 26th August 1959
My mother told me he was told off by the BBC for product placement during his act on television.
He died on 18th June 1961, with an obituary in Abracadabra magazine on 28th July 1961.