This article is not about the British television show, nor the American one, but about my Grandfather, George Lines, who was an apprentice at Clayton and Shuttleworth – a four year apprenticeship, ending in December 1911.
Clayton and Shuttleworth were a Lincoln based engineering company, mainly focussed, before WW1, on agricultural machinery.
On the 4th July 1907 Commercial Motor carried an article about a new scheme of apprenticeship adopted at Clayton and Shuttleworth, Lincolnshire.
Amongst the benefits were the that apprenticeship would be for 4 years, rather than 7, and would take apprentices between 15 and 22, hoping for boys (the concept of girls as apprentices was not considered) who has been to school beyond 14.
The hours of work are: 6 a.m. to 8 a.m., 8.30 a.m. to 12.30 p.m., 1.30 p.m. to 5 p.m., on all week-days except Fridays and Saturdays; on Fridays the works close at 5.30 p.m. instead of 5 p.m., and on Saturdays at 12.30 p.m. Time• keeping of apprentices will be most carefully watched.
I am not sure where my Grandfather stayed at first, but by the 1911 Census he was living at 69 Carholme Road, Lincoln (
OSM
) which is now the Brancaster Guest House.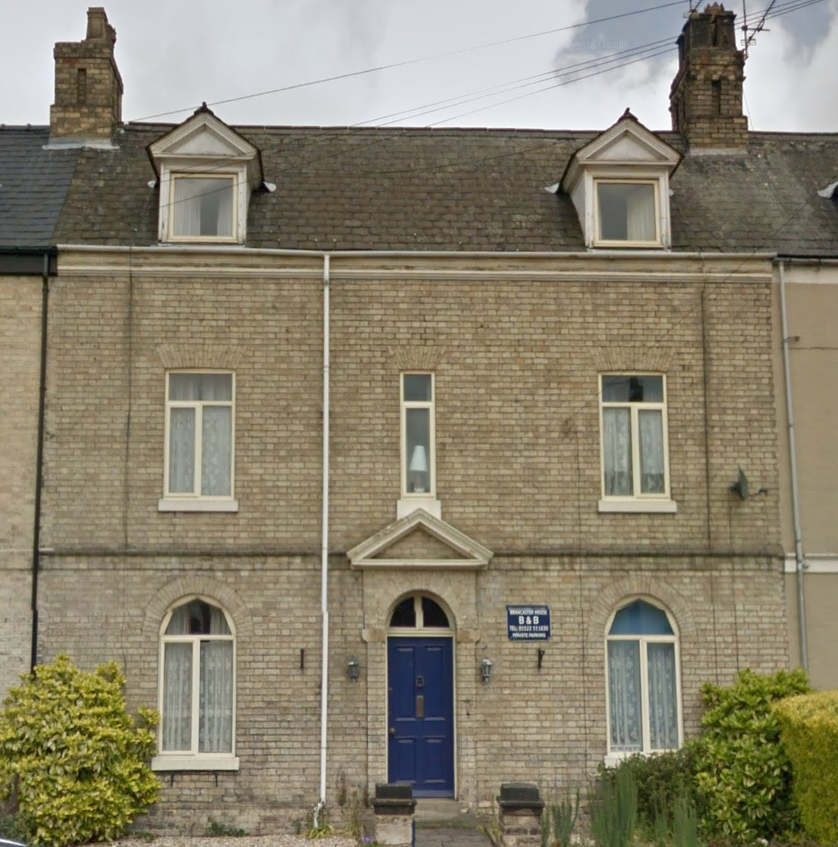 In the 1911 Census it was occupied by
Mary Jane Woodhead, head of the household, aged 50 and widowed
Harold Edgar Woodhead, son, 18, and an engineers apprentice in the field of Agricultural Engineering
Ethel Mary Woodhead, daugher, 21, no occupation
George Edward Lines, Boarder, 23, an engineers apprentice in the field of Agricultural Engineering
Alice Cook, 19, Servant
Deborah Daisy Turner, 21, Visitor
I assume my Grandfather boarded here through being a fellow apprentice with Harold.
I do not know further details of my Grandfather's apprenticeship, but he clearly picked up skills that would serve him well in the Royal Engineers in WW1, and later working for Lines Brothers.
Harold Woodhead's War.
Harold signed up for the Sherwood Foresters (Notts & Derby) Regiment.
His sister Ethel Mary married someone called Chase around September 1912 in Lincoln, and his mother Mary possibly died in Mansfield around June 1915.
Harold died on the 14th October 1915, age 22, and is buried, along with many others, at the Commonwealth War Commission cemetery at Loos.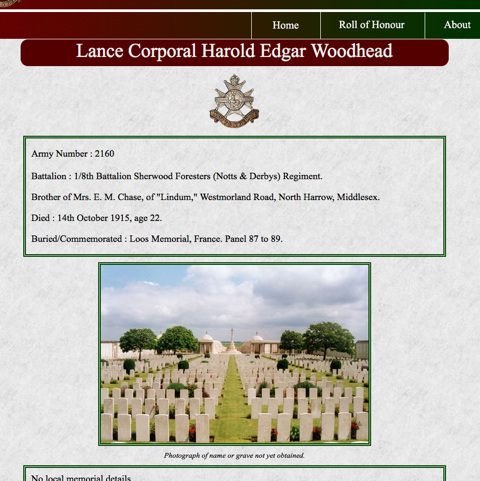 Harwell Apprentices
When I started work at Harwell it still had an apprentice school, and the apprentices, and after they had graduated from the school, the on-site engineers could produce almost anything from scratch. As in those days Harwell was doing a lot of leading edge research their skills were often required. Many local businesses also benefited from the graduates of the Apprentice Training School.
Many of the roads on Harwell site are named after famous scientists, such as Fermi Avenue, but the small stub road in front of the building in which I worked was unnamed, until one April First, a sign appeared, labelling it as "Dyer Straits". Ron Dyer was one of the Group Leaders in Material Physics Division, main occupants of the building. The sign was such a good facsimile of the other road signs on site that it remained, and next time the site was surveyed it was transferred to the official site map, and the name remains to this day, as can be seen on Google Maps