Auntie Frankie was an honorary auntie, who met my Grandmother, Doris Stevens at the time, at boarding school at Port Eynon in about 1914. I have not yet been able to track down the name of the school.
She was born Frances Mildred Young, in 1898, in Highgate. Her Father was Thomas Young, born in 1861 in Londesborough, Yorkshire. He married Alice Wimbush in May 1894 in Barnet, Middlesex.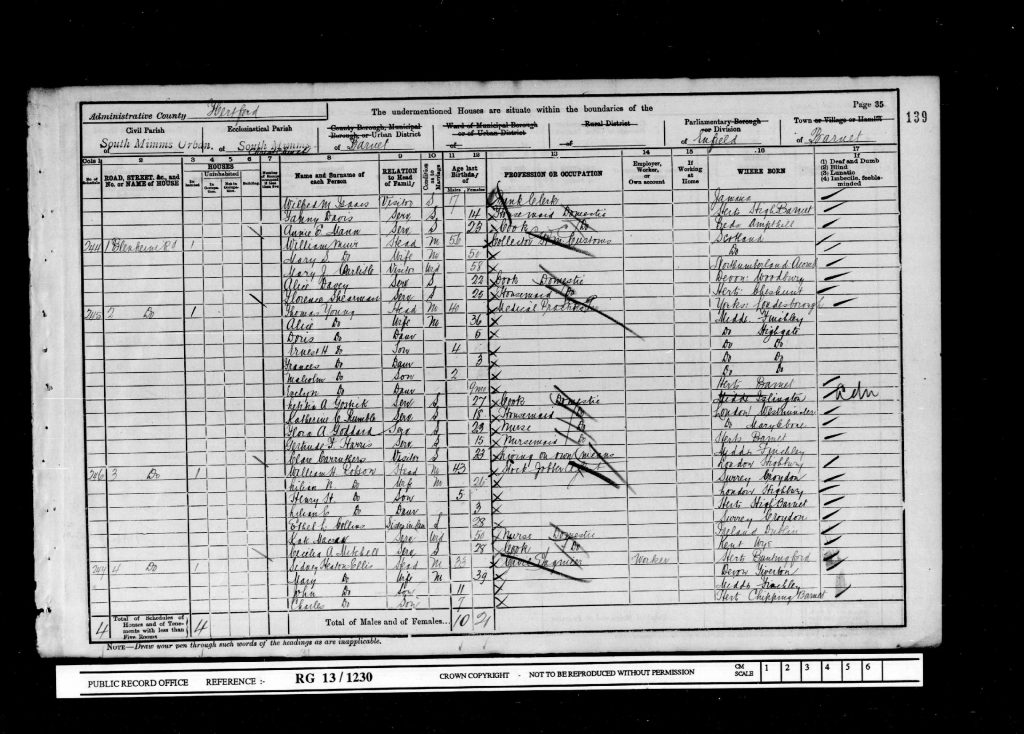 In the 1901 Census he was living at 2, Blenheim Road, Barnet, South Mimms-Urban (OSM), with wife Alice, and daughter, Doris (born 1896), son Ernest (born 1897), Frankie, a younger son, Malcolm (born 1899) and newborn daughter Evelyn (born 1901). They also had Letita, a cook aged 27, Katherine, a housemaid aged 19, Flora, a nurse aged 23, and Gertrude, a nursmaid aged 15. They were also being visited by Clare Carruthers, aged 23 and living on her own means.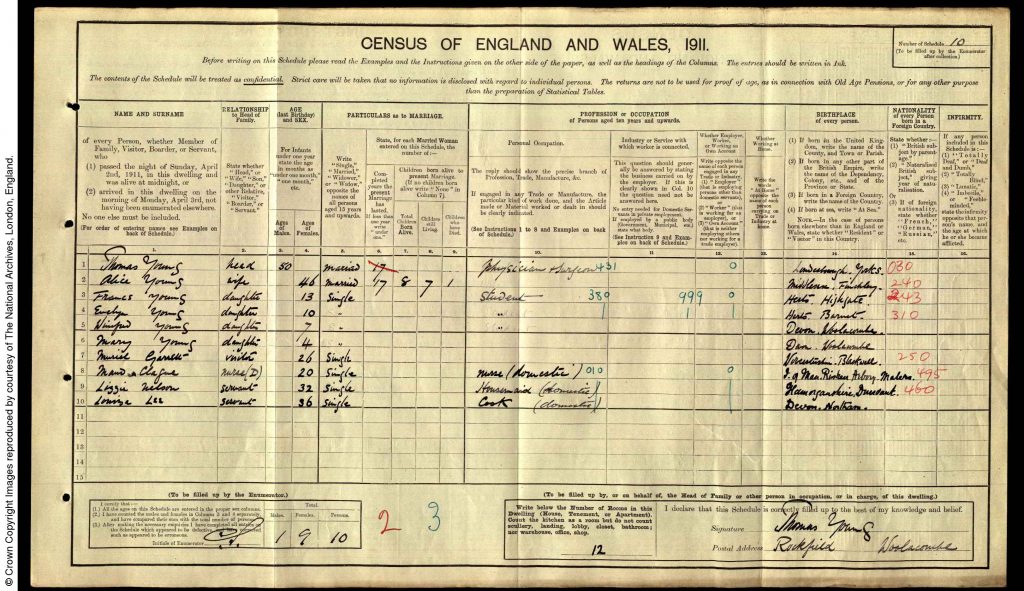 By the 1911 Census the family had moved to Rockfield House Woolacombe, Mortehoe, Devon (OSM). Frankie's elder siblings, Doris and Ernest were no longer in the household, but as they would have been 15 and 14 they could have be away at boarding school. Frankie was now 13, and presumably about to be sent off to school too. Malcolm, who would have been 12, was also not there, and Frankie had two new younger sisters, Winifred and Mary, born in 1904 and 1907, both in Woolacombe. They were reduced to three servants, Maud, a nurse aged 29, Lizzie, a cook aged 32 and Louisa, a cook aged 36.
Frankies father was very religious. Granny and Frankie used to giggle at the sight of the housemaids, during morning prayers, kneeling down with their bottoms in the air. Granny and Frankie may have known each other before going to the boarding school, possibly through the Freemans, and Granny may have gone there because Frankie was going.
Nursing Career
Frankie registered as a qualified nurse on 20th March 1925, having trained at the Royal Sussex County Hospital, Brighton from 1921 to 1924, number 33502 on the Nursing Register. She appears in the register in
1928 – at South View House, Bampton, Devon
1931- at South View House, Bampton, Devon
1934 – at South View House, Bampton, Devon
1937 – at The Essex Convalescent Home, Clacton-on-Sea
1940 – at Yateley Cottage Hospital, Hampshire (she is also here in the 1939 Census)
1943 – at 24, Underwood Road, Caterham, Surrey
1946 – at 24, Underwood Road, Caterham, Surrey
Essex Convalescent Home, Clacton-on-Sea
My father, Roger, and uncle Michael stayed with her at Clacton-on-Sea when they were young, and they wrote this letter home.
Essex Convalescent Home

Tuesday

Dear Mummy and Daddy,

We are having a lovely time here. I hope everyone at home is quite well. Yesterday we went out with Nurse and enjoyed it very much. We played about and afterwards had tea out in little café.

To-day we had breakfast in bed, and when we had finished Auntie Frankie asked us if we would like to go on a charabanc trip, with people mostly from the home.

Of course we replied that we should, and were soon on our way. The driver was very funny, and made a lot of jokes, in one of which he pointed out a letter-box which he said was cleared every Good Friday.

After a while we came to Weeley woods.

Weeley is a little village quite in the country. There were a lot of primroses there, so the driver let us out to pick some. (That is how we got these.) While we were picking them, a grass snake glided by a few feet away. Then we went through some very pretty country, until we stopped at an inn, where we ate our refreshments that Frankie had given us, and a kind lady gave us some lemonade. We then went back to Clacton (on-Sea) an that's where we are now.

A few days ago Frankie took us on a pony a little one called Susan, who is very good-tempered. It was jolly good fun.

With love from

Michael and Roger.
From the primroses this was presumably spring, and may be related to the time, when they were about 7 or 8 when Michael and Roger had (possibly Scarlett Fever) and went to Champneys to convalesce. They could have gone on from there to Clacton-on-Sea, or they could have been staying there for a Easter holiday. Speaking to my Aunt, she thinks it was probably an Easter Holiday.
The address on the page with the picture of a head (probably written by my Grandmother) is "Josephine Avenue, Lower Kingwood" (OSM), which is the road where Ann Minnion and her family used to live. Ann later married my Uncle Tim, but there there was no connection between the families at the time, and I do not know who Mrs Yarley was. It is a small world !
Essex Convalescent Home was build in 1884, on what would become Coppins Road, to the design of the architect Fred Chancellor . Essex Record Office has 10,000 plans from his office, which they are in the process of cleaning up. Some of his other buildings can be found at Archiseek. It was a Hospital during WW1 (this link to the GreatWarHomeHospitals site has a huge amount of information about that period)
There is a good history of the building at Archseek, which says that
Accommodation had increased to 30 beds for each sex by 1937. Annual patient numbers rose steadily in the earlier 20th century, from 475 in 1907 to 569 in 1913, reaching a peak of 884 in 1938. There were 365 patients in 1955.
This would presumably be the period when Frankie was running the home.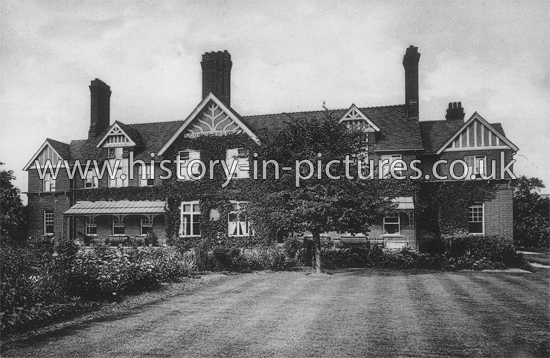 This is a picture of the home in the 1930's at http://www.history-in-pictures.co.uk/store/index.php?_a=viewProd&productId=5227.
Happisburgh
In 1937 my Auntie Jennifer went with – at least – my father, Roger and uncle Tim (and I assume Michael and Jeremy, – not sure about my Grandparents) on holiday with Auntie Frankie to Happisburgh in Norfolk. Like Birling Gap, this is an area subject to coastal erosion, despite various attempts at sea defences.
There is a cine film of my father, Roger at the top of a wooden pole, like a look-out point with toothed steps. Various siblings, but not uncle Tim, are lower down. It was quite high and probably long since barred on health and safety grounds.
There was a lovely pool at high tide under the cliffs where Auntie Jennifer leant to swim.
Yateley Cottage Hospital, Hampshire
In the 1939 Census Frankie was a State Registered Sister, at Yateley Cottage Hospital, in Hampshire.
My aunt Jennifer remembers, in June 1946 (the 8th), she went to see the Victory display on the Thames, and Auntie Frankie was at St Thomas Hospital.
we had a wonderful view from a terrace there, water sprayed from ( I suppose fire fighting boats ?) all in glorious colours then fireworks and all to Handel's 'Fireworks and Water Music'. For the Victory Parade I had a place on the Victoria Memorial outside Buckingham Palace and years found out that Jane was there too ! She was representing W. Surrey Guides and I was there for E. Surrey !

(as my aunt notes, my father was still in India in 1946, and uncle Michael was in Mauritius)
Godstone, Surrey
From my Mothers address book Frankie lived at (OSM)
Miss F Young  (Mrs F Snell)
Winspit
Church Lane
Godstone
Surrey
Godstone is quite close to Warlingham, and so this could be the place where Auntie Frankie ran a Nursing Home. She took in Hungarian refugees after the 1956 revolt was quashed.
She was probably living there when, in 1962, she attended the funeral of John Keeley (the son of my Aunt Tudy, sister of her school-friend – my Grandmother). She told Claire, who is now my aunt, that life in digs was not good for my Uncle Jeremy (who was off work, sick, at the time). Some time after they they did indeed get married.
The Coastguard Cottage at Birling Gap
She owned one of the Coastguard Cottages at Birling Gap, No. 3 or 4, which was very comfortably furnished, and generously lent out to various friends, including my Uncle Tim. and Michael and Fanny, who stayed in it for Easter 1956, and came back for my parent's wedding.
The National Trust bought cottages 5,6 & 7 in 1982. The others are privately owned. The cottages are well know as examples of the effects of coastal erosion.
No. 3 has now gone, but No. 4 is still there (just) in 2016.
Auntie Jennifer remembers staying there in September with Jean Brinley (who went to college with Jennifer and my Mother), and the cliffs being full of mushrooms.
I was at the cottage at Birling Gap with by brother, Chris, and my Aunts Jennifer and Fanny, and my mother and possibly others, in June 1959.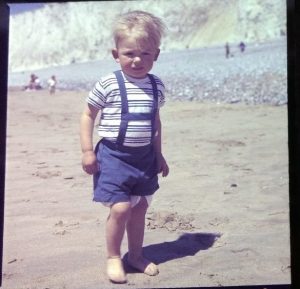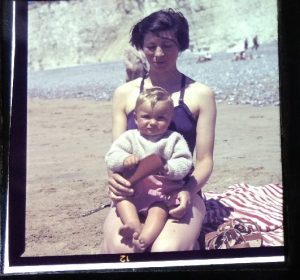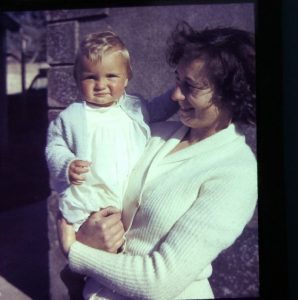 Later notable occupants of the coastguard cottages
Number 3 was occupied in 1994 by Joyce Betts, the widow of Jimmy Betts, the brother of Barbara Castle. Her mother-in-law, Annie Betts, known as Muvey, so several other cottages were occupied, for holidays, by people with Labour Party connections.
In 1994 number 4 was owned by Jean Fawbert. She still owned and occupied it in 2000, having inherited it in 1990 from her mother, who knew Muvey's family and friends in Pontefract. Her mother bought it in 1970, so could have bought it from Frankie,who would have been 72 – if this one was Frankies cottage. Jean was the last of the owner occupiers – the other 2 privately owned are by 2000, rented
In 1994 number 5 was owned by Lord Howie of Troon, another Labour Peer.
Retirement and Marriage
My sisters went to visit her in a Nursing Home near Lyme Regis (where the French Lieutenant's Woman was filmed). There are two nursing homes in Axminster – a couple of miles from Lyme Regis, in my mother's address book.
Tudor Cottage
South Street
Axminster
and
Silverleigh
Silver Street
Kilmington
Axminster
Devon
She married Jack (John W) Snell when she was in one of these Nursing Homes, in the 4th quarter of 1980. Apparently they got together over games of chess. Jeremy and Claire visited her a few times in Axminster when returning from holidays with Peggy Lines in Instow. They remember her infectious laugh and when she told them that once married to Jack they would have a sitting room and a bedroom in the home. Jack had beautiful hands.
Frankie was in Honiton Hospital, Honiton, Devon, when she died on19th March 1985. Probate Bristol 29 April – left £56,770