My Great Aunt, Mary Lines, daughter of Joseph Lines, married Ralph Freeman at St Olave, Stoke Newington, Hackney, on the 14th of July 1908.
Ralf Freeman's father, George James Freeman died on 6th of April 1908, shortly before the wedding.
George James Freeman (~1853 – 1908)
George James Freeman, born about 1853, was the son of James Rykes Freeman, whose mother came from Holland, where James was sent as a young man to learn the cigar business. On his return to England James started his own tobacco business in Wales in 1839, which became JR Freeman and son. They produced several well know brands including Hamlet.
George married Edith Marion Henderson in 1875 and they had six sons and three daughters.
Of the sons, Donald George Freeman (1877 – 1937), followed him into the cigar business, eventually taking over running the business.
Three of the other sons were sufficiently noteworthy in their own fields to warrant Wikipedia articles.
As well as marrying my Great Aunt, Ralph became a famous Civil Engineer, designing, amongst others, the Sydney Harbour Bridge, which celebrated its 75th Birthday in 2016.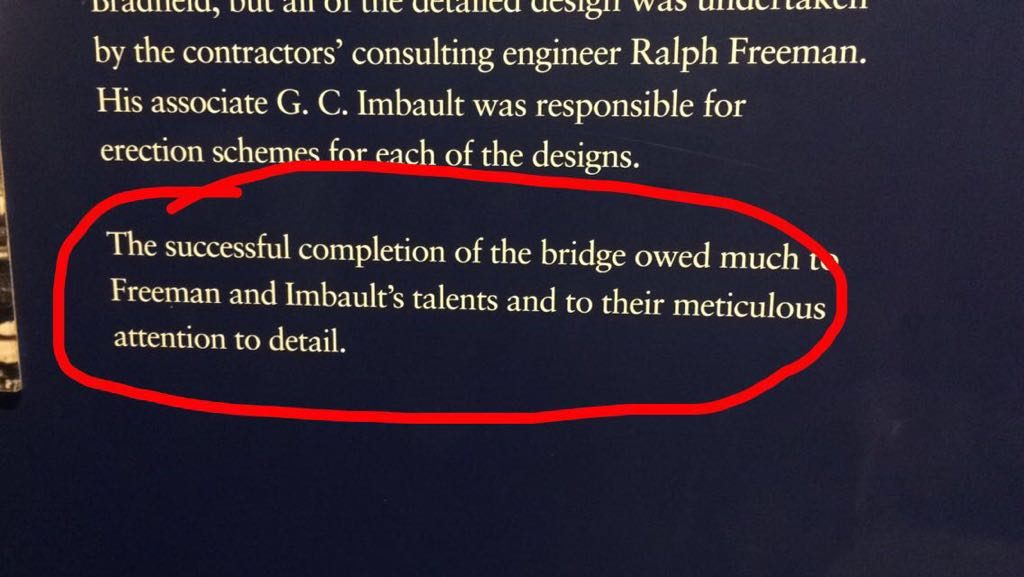 The two arches of the bridge were joined on 19th August 1930, an event commemorated by an article in The Guardian (including a picture, which appears to show the confidence Ralph had in his creation as he is probably the figure in the centre, standing on a wooden plank)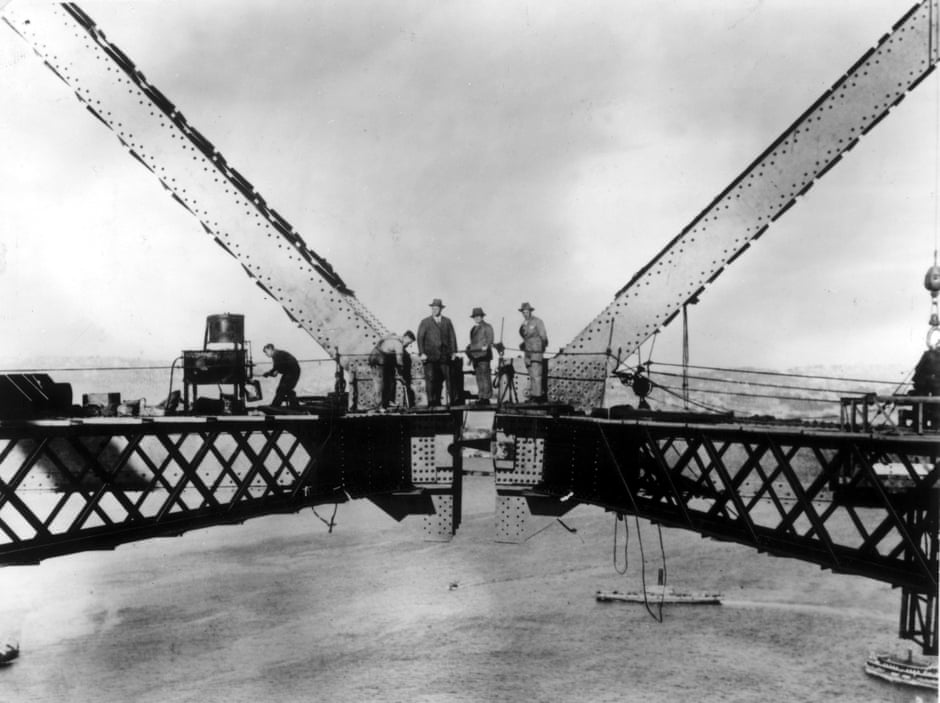 Arnold Freeman was a writer, philosopher, anthroposophist, adult educator, actor, director, Fabian Socialist, Labour Party candidate and co-founder of the anthroposophical magazine, The Golden Blade. He was the founder and first Warden of the Sheffield Educational Settlement.
In the Wikipedia article it says that "He and his sister Daisy spent a year at the Quaker Settlement in Woodbrooke," – Daisy will be (probably) Ada Marion Freeman – see below.
He was also probably the Anthony Freeman who was one of the witnesses, along with Joseph Lines, as the marriage of Ralph Freeman to Mary Lines in 1908.
He, along with his mother, and sisters Daisy and Dolly were with my Grandfather in Bellagio in 1914, as my Grandfather wrote in his letter from Bellagio.
Peter Freeman was Labour MP for Newport from 1945 to 1956.
He as also a director of J.R. Freeman Cigars, despite being a non-smoker, and is credited with inventing the brand name Manikin.
He was a keen tennis player and Lawn Tennis Champion of Wales three times, as well as being a vegetarian and writer on Vegetarianism.
He married Ella Drummond Torrance, daughter of Andrew Mitchell Torrance, Liberal MP for Glasgow Central from 1906 to 1909.
The daughters
Edith Elizabeth Freeman – born 1885, shown as Patty E. in the 1901 Census. She married James Edmonson, 1st Baron Sandford who was Conservative MP for Banbury from 1922 to 1945.
The Twins
Ada Marion Freeman – born 1895. Known in the family as Daisy. She became a doctor and was the family doctor of George Bernard Shaw.
Ellen Dorothy Freeman – born 1895. Known in the family as Dolly.