My father, Roger Lines, wrote to his sister, Jennifer, probably about 1939. She had been at Croydon High School, and was evacuated to the home farm of Statfield Saye at the start of the war.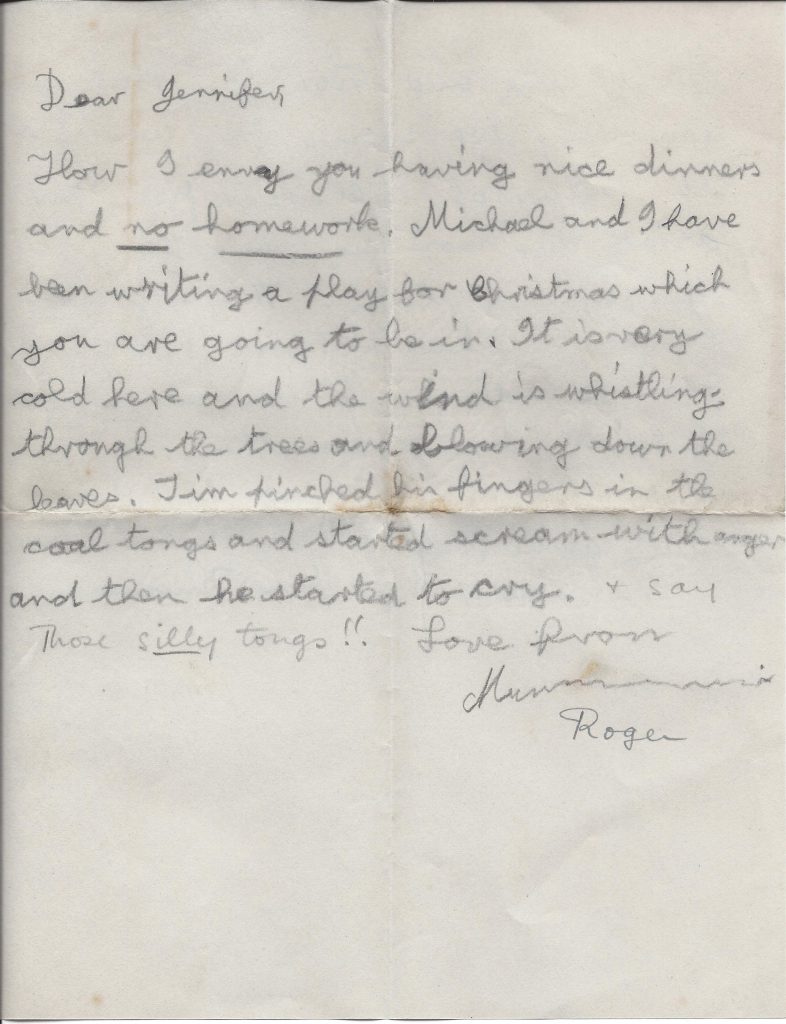 Dear Jennifer,
How I envy you on having nice dinner and no homework. Michael and I have been writing a play for Christmas which you are going to be in. It is very cold here and the wind is whistling through the trees and blowing down the leaves. Tim pinched his fingers in the coal tongs and started to scream with anger and then he started to cry & say "Those silly tongs !!"  Love from

Roger
This was probably  written in the autumn of 1939, as Jennifer was probably one of the girls who had been sent away to safe districts before the whole school moved. From the description on the school web site
When Miss Adams arrived to take over the leadership of the school, the Second World War had begun. She had just evacuated the Queen Mary High School from Liverpool and travelled to Croydon to find not 800 but 54 pupils, for many girls had been sent away to safe districts. Miss Adams had to act quickly to preserve the life of Croydon High evacuating part of the school to Eastbourne and part to Llandilo in Wales.
The play was probably "The Green Gang" – one of several Family Dramas written by my father (some with Uncle Michael). The programme can be seen on the Family Dramas post.
This letter was probably after the one in a previous post, from Roger to Jennifer in 1939.
The reverse of the letter has the tail end of a letter from my Grandmother to Jennifer, but unfortunately I do have the rest of that letter.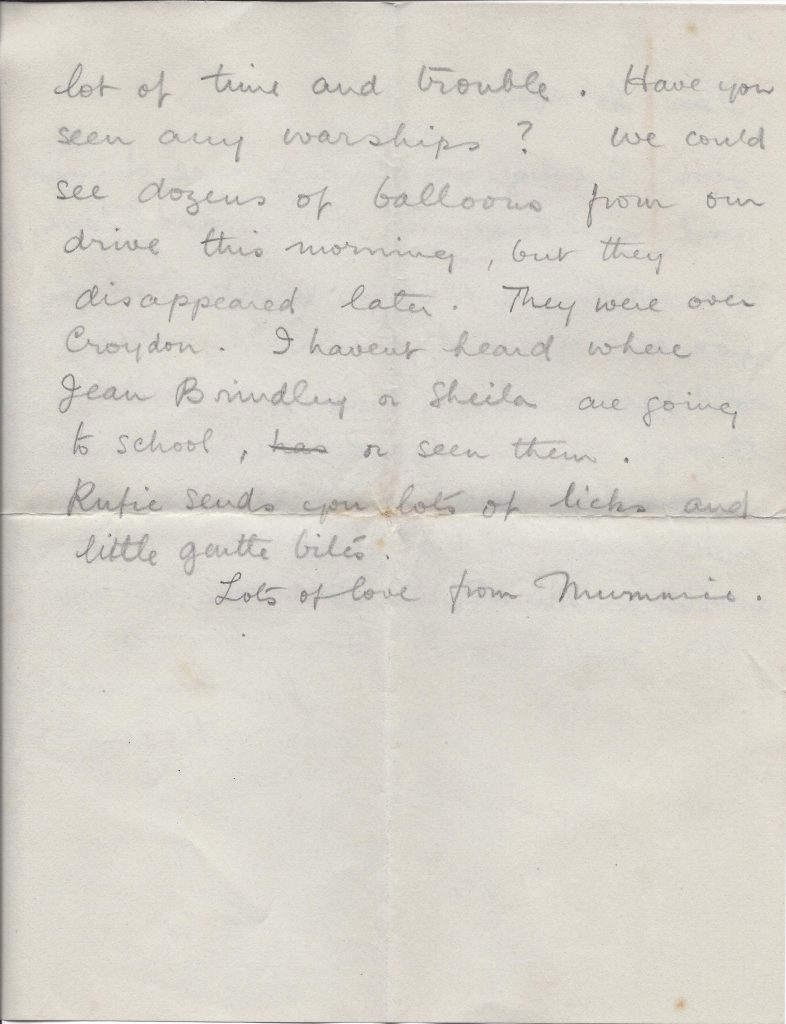 lot of time and trouble. Have you seen any warships ? We could see dozens of balloons from our drive this morning, but they disappeared later. They were over Croydon. I haven't heard where Jean Brindley or Sheila are going to school, or seen them.

Rufie sends lots of licks and little gentle bites.

Lots of love from Mummie
Jean Brindley had been a friend of Jennifer's since they were about nine, and they ended up going to teachers training college at Roehampton together. Jean was in the same house at Froebel as my mother, which is how my mother and Jennifer met.