Minnie Sarah Stevens was my Great Great Aunt, sister of my Great Grandfather, Charles Arragon Stevens and Lillian Jane Stevens, whose marriage into the Rebbeck family I have described in another post.
Parents and early life
She was born in Bristol on 17th July 1863, daughter of William Stevens and Sarah Elizabeth Locock. I am not sure of the finer details of where she was living, as in the 1861 Census her father was unmarried, but a visitor (with an occupation of Provision Merchant) to the Victoria Inn, Regent Street, Weston-Super-Mare), which was being run by Thomas Locock (1799-1863), a widower, assisted by three of his daughters, Eliza, Sarah Elizabeth and Clara.
William married Sarah Elizabeth on 30th July 1861 the parish church in Twerton, presumably the Church of St Michael and All Angels, where William's occupation is shown as Cheese Factor and his address as Twerton.
Their first child, William Henry Arthur Stevens, was born about 1862 in Bristol, but I do not know exactly where the family were then.
Minnie, in 1863, was the second child, as was followed by Thomas (1869), Clara Alice (1866), Helen Kate (1867), Thomas George (1868) and Florence Grace (1871).
By the 1871 Census her father was a Wine and Spirit Dealer and the family were living at 51, Broad Street, Bristol (OSM). As well as the parents and 6 children, they were being visited (or possibly had living with them Jane Victoria Watkins, who I believe was her aunt (William's sister), aged 29). They also had three servants, Emma Hooper (20), Harriet Abbott (13 !), and John Taylor (15).
Minnie was baptised (as a adult aged 16) on 21st October 1879, at St Andrews Church Montpelier. Most of her siblings were not baptised so this was presumably her decision.
By the 1881 Census her father was a Wine Merchant, and the family were living at Sydenham Road, Barton Regis, which appears to be been somewhere on the outskirts of Bristol. Minnie had two more siblings Lillian Jane (1872) and my Great Grandfather Charles Arragon (1875).
Her occupation in the 1881 Census, when she was aged 18, is listed as "Professor of Music". Her baptism could relate to this as most serious music of the time had some form of religious connection.
Marriage to James Dole.
On 2nd December 1885, aged 22, she married James Dole. aged 54, at the church of St Mary, Tyndalls Park, Bristol.
Although my Grandfather's notes describe him as 'a wealthy importer of tins of fruit from the USA' he may have been confusing this James Dole with the more famous James Dole of pineapple fame. James' father, George was what looks like a 'Green Pig Dealer' in the 1851 Census, and a 'Pig Butcher' in 1861, as was James, then aged 29.
By the 1871 Census James was a '? Provisioning (something) employing 2 men, 2 boys and 2 shopwomen', and by 1881 he was a 'Provision Merchant and Bacon Curer, living at 82 and 83, West Street, Bristol and clearly felt financially secure enough to propose to Minnie.
Their daughter, Muriel Elsa Dole was born on 13th November 1886, and on 29th May 1891, Minnie gave birth to twin boys – Harold William Jackson Roeckel Dole and Lionel Morris Gibbs Dole. Perhaps, in naming the boys she is both thinking back to her musical youth, and predicting the future, at least that is what came into mind when I read 'Morris Gibbs'
By the 1891 Census (taken before the twins are born) James Dole, now 60, is described as a 'Retired Provision Merchant' and the family is living at Redland House, Redland, Bristol.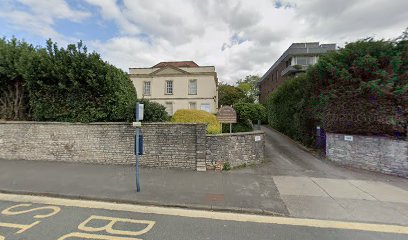 As well as James and Minnie and their daughter Muriel (4), Minnie's sister Florence Grace Stevens (21) is living with them, and a cook, a parlourmaid, housemaid, and a nurse – possibly in readiness for the arrival of the twins.
James Dole died on 20th April 1899, leaving effects £54,005 2s 11d to Minne Sarah Dole widow and William Stevens gentleman.
Minnie was still only 35 when her husband died, and her sister Florence died the next year, on 1st May 1900, aged only 29.
Widowhood
In the 1901 Census Minne and Muriel were staying with her sister Liilan Jane who was now married to Edward Wise Rebbeck, further described in Renowned Rebbecks.
The twin boys, aged 9, were boarding in Stratton in the house of Henry Austin, a unitarian minister, his wife Emma, and his daughter, Julia Sarah Collier Austin, a Private School Teacher. She was a graduate of the Bedford College, University of London, so the boys should have received a good education.
Marriage to Joseph Leopold Roeckel
In July 1908, aged 45, Minnie married Joseph Leopold Roeckel who was 70 at the time. She must have really liked the name as she had already called one of her sons Harold William Jackson Roeckel Dole.
Jospeph Leopold Roeckel was born in London in 1838, the third son of Professor Joseph August Röckel, and brother of August Röckel. His aunt Elisabeth Röckel may have been the Elise for whom Beethoven wrote "Für Elise".
He had married Jane Jackson (1833-1907) in 1864, and, as this article in the Stand Magazine on Lady Composers describes Jane was a composer in her own right. (IMSLP entry here) Note that the Jackson in Harold William Jackson Roeckel Dole is probably from her, rather than some other musical Jackson.
The 1881 Census show Joseph and Jane living at 2, College Road, Clifton (OSM), and for their occupation they both list 'Professor of Music' – the same as Minnie in her 1881 Census entry. Despite their proximity to Clifton College, the Old Cliftonian Society has confirmed that none of Joseph, Jane or Millie taught there, and that at that time the term 'Professor of Music' was used by anybody who taught music professionally. Joseph and Jane were still both Professors of Music in the 1891 Census, although now living at 1, Worcester Lawn, Clifton, and in 1901 when they are joined by Jane's widowed sister Ada Francis Villiers.
Jane died on the 26th August 1907, and Joseph married Millie in July 1908, in Kensington.
By the 1911 Census Joseph and Millie were living in Paddington, with Muriel, now 24 and an Actress, Harold, now 19 and a Law Student, Lionel, also 19 and an Art Student. Joseph listed his occupation as Composer. (IMSLP link here).
Joseph died on 20th June 1923, aged 85, in Vittel,France, but he might have been visiting the spa there, as his home, by then was back in Clifton at Beaufort Lodge, Beaufort Buildings, Clifton.
Widow once more
Minnie was 59 when Joseph died, and by 1930 she moved to Flat 4, Stratford Mansions, 34, South Molton Street, City of Westminster, along with Harold and Lionel.
She died on the 9th September 1932, aged 69, and named Lionel James Philip Dole, Tobacco Manufacturer, and Muriel Adams (Wife of Frank Adams) in her will. Lionel seems to have used 'Philips', and sometimes 'Phillips Napier' as alternatives to 'Morris Gibbs'
She was living, at the time of her death, at 88, Jermyn Street, an interesting address to me, as Isaac Newton lived there from 1697 to 1700, before moving next door to number 87.
Muriel Dole (1886-1982)
Muriel went on to become a stage and screen actress, appearing in 'The Divine Gift' a 1918 silent film. Her IMDB entry is here. She married Frank Adams in 1931 and died on 1st November at 71, Whitelands House, Cheltenham Terrace, London.
Harold and Lionel Dole
Despite studying different subjects, the twins seem to have stayed close. In 1939 they were both living in Burleigh Mansions, Charing Cross Road. Harold in Flats 39-41, occupied as a 'Consulting Engineer and Director' and Lionel in Flats 35 -37, occupied as a 'Civil Engineer and Director'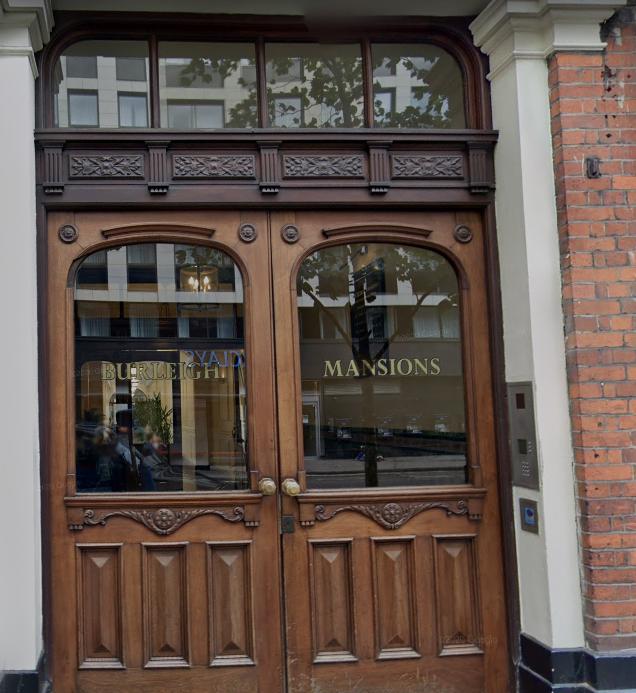 Lionel died on 8th July 1972 at 17, Whitelands House, Kings Road, Chelsea, and Harold died on 7th August 1973 at Pendean Convalescent Home, Midhurst.