Ada Webster, born on the 30th November 1861, was my Great Grandmother. She married my Great Grandfather, John Box in 1884. Her sister, Margaret Elizabeth Webster, born 23rd November 1851, wrote to her on the 29th November 1867, to wish her a happy 6th birthday. My sister has the letter.
Here is the transcription
42 West Derby Street
November 29th 1867
Dear little Ada
Tomorrow will be your birthday so I write to wish you many happy returns of the day. I hope you will always try to be a good girl and not make Papa and Mamma angry with you. If you love God and pray to Him He will always take care of you for he love all good children. I suppose when I reach home again I shall be able to hear you read, for Mamma told me you had been getting on very nicely. I have sent you a little valentine, I think it is pretty, I hope you will like it. You must kiss Percy, Janet, Edith and Arthur for me and give my love to ——- all and tell them I hope I shall see them soon.
I often think of my little bed-fellow at house and wonder if she misses me. I must say Goodbye to you now because I am going to write Mama _________ So I send you much love and many kisses from
Your loving sister
Maggie
At the time Margaret (Maggie), would have just celebrated her 16th birthday, and she was presumably living at 42, West Derby Street, which is probably in Liverpool, L7 3EA. She might have been writing to Ada at 5, Gracechurch Street, where their father, William, mother Elizabeth (daughter of Justus and Elizabeth Reitze), and siblings Arthur and Edith (and six servants) were living in the 1861 Census, six years earlier, or more likely at 124, Albion Road, where their parents, and siblings William Justus, Janet and Alice were living (and two servants) were living in the 1871 Census, four years later.

People
Margaret Elizabeth Webster
Born 23rd November 1851 (almost exactly 10 years before Ada), and baptised 25th December 1851 at St Stephen, Coleman Street, London. This was Christmas Day, but remembering A Christmas Carol, it would appear that much ordinary business still happened on the day. As she was born after the 1851 Census she does not appear in it, and she is not with the rest of the family in the 1861 Census either. Her elder brother William Justus Webster is, like Arthur Reuben in 1871, at the boarding school in Edmonton, in the 1861 Census, and as he is not mentioned in this letter he is presumably still away in 1867. He signed up as an apprentice Cook in 1865, and was back living with the family as a Cook's Apprentice in 1871.
Presumably Margaret was away from home in 1861, when she would have been 9, possibly at boarding school, or living with relatives to broaden her education, and was also away, for similar reasons in 1867.
In the 1861 Census there is a Margarate Webster, aged 9 and born in London, living at (something) School House, Eddington, Kent, where she is a pupil. There was a school (or seminary) run by Jane and Mary Baskerville,  and called Pear Tree House. As well as the Baskerville sisters there was a French Governess, a Music Governess, 14 female scholars aged from 9 to 15 and a cook, housemaid and under housemaid (who was only 15). This could well be the same Margaret Webster, who may have boarded there until about 1866.
She died on 26th March 1868, at the family home  at Albion Road, 4 months after writing the letter, and was buried on 31st March at St James in Swain's Lane, St Pancras. This is Highgate Cemetery. Her burial number is 34044.
Ada Webster
Born at Gracechurch Street on 30th November 1861, and baptised 1st January 1862.
Married John Box on 6th February 1844, at Highgate Rise Church.
She died 8 September 1944 – Lynwood, Horndean Road, Emsworth, Hampshire aged 82.
Percival John Webster (Percy)
Born in 1865, and baptised on 21st February 1865, so would have been two years old at the time of this letter.
Married Edith Amy Day around August 1894, and they had two children, Kathleen Edith Webster (born about 1895), and William John Webster (known as Jack, and born about May 1897)
He died  on 17th January 1904, aged 38, when Jack would have been six.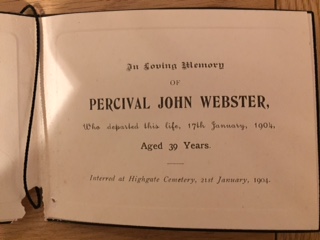 There is more of the story of Percival and Jack in the post William John Webster – Anthem for a Doomed Youth.
Janet Webster
Born 8th August 1863 and baptised 9th September 1863 at at St Stephen, Coleman Street, London, like Margaret. She would have been four.
She married Thomas Henry Austin in 1900
She died 28th October 1941.
Edith Reitze Webster
Born in 1860, and baptised on 20th March 1860, so she would have been seven.
She married Frederick Braund Box , younger brother of John Box, in 1887.
She died on 20th January 1951.
Arthur Reuben Webster
Born in 1858, and baptised 18th June 1858, so would have been nine.
He was a pupil, aged 12, at College House school in Edmonton in the 1871 Census. According to British History Online
The largest boarding-school was College House in Upper Fore Street, next to the Bell inn, which was attended by 93 boys and run by the White family from before 1840 until 1887 when it moved to Eastbourne.
He as apprenticed to Richard Aldridge on 1st October 1873, as a confectioner.
He was a confectioner and baker, and married Bessie Hamilton in 1882. They had two children, both born in 1884, so presumably twins. Amy Margaret Webster (who shows up in the 1911 Census, living with her Uncle, Frederick Braund Box, at 8 Coleridge Road Crouch End N, Hornsey, Middlesex, England (OSM)), and Arthur Frederick William Webster, who died aged nine, on March 26th 1892.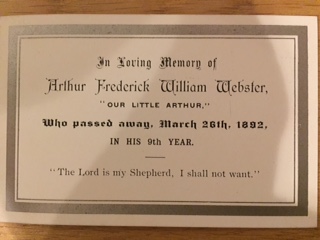 Arthur Reuben Webster died 27th January 1936, although his widow was Martha Helen Frances Webster, as he married Martha Ellenor Frances Enstone Wilson (1873-) on 17th Feburary 1901.

Places
42, West Derby Street
This house was in the Municipal Ward of West Derby in district 27f.
I am not sure who was living at 42, West Derby Street (OSM) in 1867, but it could have been a relative. Margaret and Ada's great grandfather was General Webster, from a military family, who travelled a lot, so could have relatives all over the country.
In 1861 James Jeffreys, born about 1812 in Scotland and some form of manufacturer, was living with his wife Mary Eliza Smith Jeffreys, born about 1819 in the West Indies, St Croix, and 2 daughters, two sons, two widowed sisters and a cook, a housemaid and a nurse. The house must have been reasonably substantial to house so many. By the 1871 Census Mary Eliza Jeffreys is living, as a widow with Isabella Cuffin, one of the widowed sisters at Waterloo, Great Crosby, so that family must have moved out of 42, West Derby Street by 1871. James Jeffreys may have died in the last quarter of 1866.
In 1870, according to "Wealth and Notoriety: the extraordinary families of William Levy and Charles Lewis of London", a man called Edward Laurence Levy, calling himself Edward Linden, was arrested at 42, West Derby Street for deception and forgery (most carried out in London some years earlier, but he had been living abroad).
In the 1871 Census the house is occupied by John Langsdale, born about 1839, in Liverpool. His occupation is unclear on the census form, although when he was 22 in the 1861 Census he was a Timber Merchant's Clerk. Also his sister, Mary White, born about 1845, and a widow. His son, who I think is Lionel John Langsdale, born about 1866 is also living there, but no wife, as John is as widower. I think John was a Catholic, born 19 Aug 1838, and baptised 23 Aug 1838 and he married Bridget Carroll  on 31 May 1864. They are being visited by Sarah Ellen Fowles (aged 30), and have a servant, Francis Jones aged 19. There is no obvious Webster connection.
In the 1901 Census (over 30 years later) Alfred Harold Tweed was living at 42, West Derby Street with his wife and son. Interestingly the Howes family tree contains a number of Websters, but I have not found any which match the ones in my family tree.
5, Gracechurch Street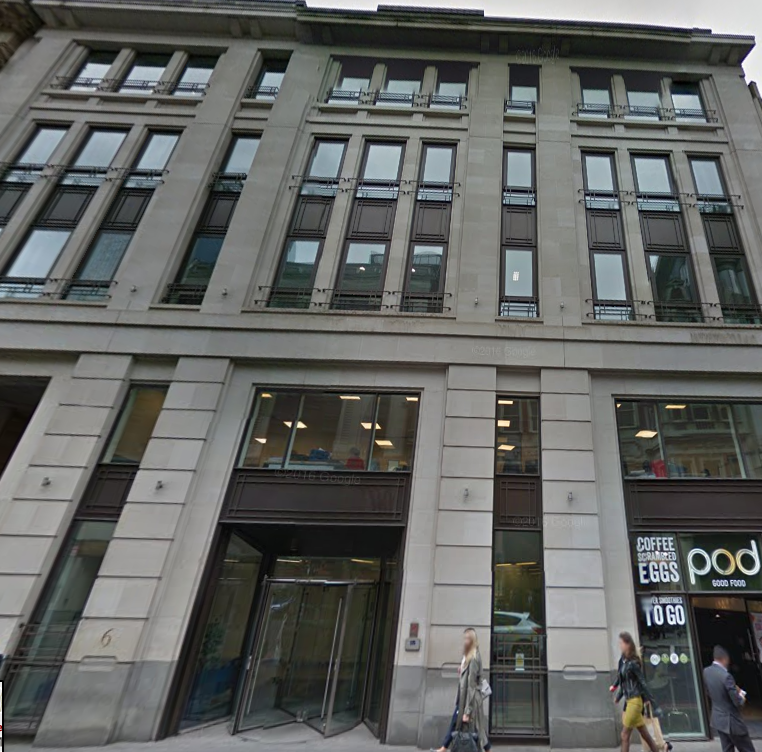 The family were living at 5, Gracechurch Street (OSM) in 1861. It is now a very large and imposing building, but I am not sure when the current one was built. Pod is at number 3, but in 1861 it was Hugh Vendon, ironmonger. Ede & Ravenscroft, robemakers to the Queen, are at number 2 now, but might not have been in 1861.
Leading off Gracechurch Steet is Bell Inn Yard, where I think my Grandfather used to work as a solicitor, which I suspect is just an interesting co-incidence.
The Science Museum has a Stoneware drug jar, by Wayte, 5 Gracechurch Street in their collection, made 1822-1884. From another site this is probably described as "STONEWARE DRUG JAR. 8ins tall, off white glaze, raised coat of arms to front with 'WAYTE NO5 GRACECHURCH ST' in raised lettering to fancy scroll above."
124, Albion Road
By 26th March 1868, when Margaret Webster died, the family had moved to 124, Albion Road (OSM), as this is the address recorded on her burial registration.