I was in the Weston Library last week, where they had on display, as part of their exhibition of "Treasures of the Bodlian", the original draft of Wilfred Owen's "Dulce et Decorum Est".
It was another of his great war poems which came to mind when I thought about William John Webster – his "Anthem for Doomed Youth".
What passing-bells for these who die as cattle?
Only the monstrous anger of the guns.
Only the stuttering rifles' rapid rattle
Can patter out their hasty orisons.
My Great, Great Grandmother, Ada Webster, who married John Robert Box, had  a brother, Percival John Webster, born in 1865.  Percival was an Apprentice Confectioner in 1881, living at   Brockfield House in St Pancras, Pancras, London, with his parents, elder brother Arthur, elder sisters Edith, Ada and Janet, and 2 servants.
In the 1891 Census Percival is living on his own at 332, Harrow Road, Paddington, and he is a Stationer.
Around August 1894 Percival married Edith Amy Day, and they had a daughter, Kathleen Edith Webster – born about 1895 – and a son William John Webster – born about May 1897.
In the 1901 Census he is living at 7, Kestrel Avenue, Lambeth, London, England, with Edith, Kathleen E (aged 5), William J (aged 3), and a boarder and 2 servants. He is a Commercial Traveller (Stationary).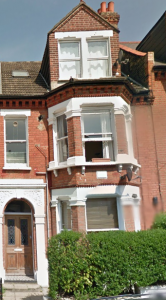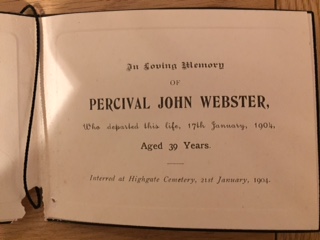 In 1904 Percival died, leaving Edith to bring up the children, who would have been 9 and 7, on her own.



By the 1911 Census Edith and Kathleen, have moved to 93, Walm Lane, Cricklewood N W, Willesden, Middlesex, England, where they live with two boarders.  William John Webster does not seem to be in the 1911 Census, but the 93, Walm Lane address is the one he uses on his sign-up papers.
(Unfortunately I can not post the sign-up papers as there is a fee of £48 to post TNA documents on a public web site)

On 4th August 1914 Britain declared war on Germany. At the time William John Webster would have been 17,  but on the 3rd September 1914 he declares his age to be 18 years and 3 months, and signs up.
This was some time before "Anthem for Doomed Youth", and he would have been thinking more of "Your King and Country Want You" and other popular songs of the time

Oh! we don't want to lose you but we think you ought to go
For your King and Country both need you so;
We shall want you and miss you but with all our might and main
We shall cheer you, thank you, kiss you When you come back again.
William John Webster was one of the many who did not return. He died on 2nd March 1916, and is buried at Loos, in the Commonwealth War Graves Cemetery.
He has a rather sparse record at the Lives of the First World War website.
Reprieved (temporarily)
It appears that reports of his death were exagerated. One of the family trees I inherited had a note saying 'Died WW1'.  Another, however has a nickname of Jack associated with him. My sister has a Memorial Card for him, showing that he died on 30th July 1922.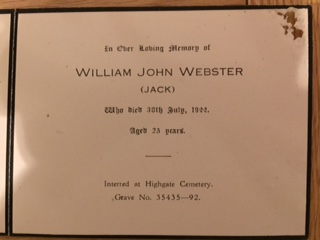 The Deceased Online website shows that he was buried on 2nd August 1922.
A comparison of his Army Number 761788, from his Statement as to Disability, with the William John Websters at Lives of the First World War shows that our William John Webster was in fact this one, who ended the war as a Sergeant Instructor – an important role.  This also explains his jump in age on his Statement as to Disability. Although the only date on the form is when he joined, this was signed when he was released, to show that he was not going to claim for any injuries created during the war – which lasted 4 years, during which he aged 3 years !
I have not been able to track down what Jack Webster did between 1918 and 1922, but his death at the age of 25 is still tragically early, and I am leaving the William Owen references in honour of the 92 William John Websters who died during World War One and are commemorated at the Commonwealth War Graves site.