My Grandmother on my mother's side was born Lilian Gladys Cansdale on 13th February 1901. Her parents were James Cansdale and Elizabeth (née May). She had an elder brother, Jack.
I have inherited some information about members of the Cansdale and May families and have also done some research, and here are some notes about them.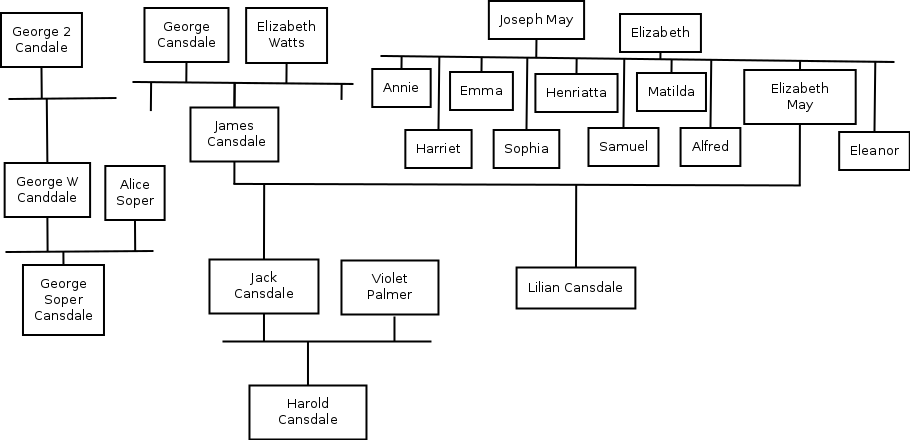 Lilian Cansdale
Born 13th of February 1901 and Baptised on 28 April 1901 at St Mary's, Stoke Newington.
She worked for the Bank of England, and there is or was a picture in the Bank of England staff magazine titled "The Unbeaten Relay Team" and Grannie is one of them. She was a good runner. There should be a copy of the picture somewhere.
I don't know if this is how she met my Grandfather, Leonard Box, as he would have been working as a solicitor in the City.
James Cansdale (1866-1947)
James Cansdale was born in 1866 in Fordham, Essex. The son of George Cansdale (1838- ) and Elizabeth Maria Watts.
In the 1891 Census he is, aged 23, a Hotel Superintendent, living in a Hotel beginning with A. (This was probably Anderton's Hotel, 162-165 Fleet Street, St Dunstan in West, City of London).
There was a pub on this site from 1385. According to an article in The Spectator it had "a great reputation among men from the Cornish tin mines, who would usually stay at Anderton's when in London. and who used it, indeed, as a kind of bourse."
In the 1901 Census he does not show up, but Elizabeth Cansdale, age 36, is shown as Widowed, and living at 43, Prince George Road, Stoke Newington (OSM) with son Harold, aged 7 and daughter Lilian aged 2 months. Also living at that address are her father, Joseph May, aged 75, and Elizabeth May aged 74, and her sisters Matilda, aged 40 and Eleanor aged 26. My guess is that he was working away somewhere and the Census taker assumed that a woman acting as the head of the household must be a widow. This was on the 31st March.
By the 28th April the Baptism record for Lilian Cansdale shows James resurrected and living with Elizabeth at Prince George Road.
By the 1911 Census James, Elizabeth and Lilian are living at 61 Bradbourne Street, New Kings Road, Fulham (OSM). His profession is shown as Caterer (own account, i.e. Self employed). Harold, who would now be 17, is no longer living with them.
At the time of his death on 13th February 1947 his address was 20, Chipstead Street,Fulham, (OSM) (just down the road from Bradbourne Street), but he actually died at Little Cucknels. He left £1641 12s 7d. to Harold Cansdale, chief steward, who is referred to here as Jack.
Elizabeth May (1865- 1942)
The 9th child of Joseph and Elizabeth May, she was born in Stoke Newington in 1865. In the 1871 Census she is shown as being aged 7 and living with her parents, her older brother Samuel (aged 14) and her older sister Matilda (aged 11). They are living at 11, Union Street, Hackney (which does not seem to exist any longer).
She married James Cansdale in June 1893 in Hackney. Jack is born in 1893 and Lilian in 1901.
She died in 1942.
George Cansdale (1838-?)
James Cansdale's father, George, was born in CopfordP, Essex about 1838. He was the son of William Cansdale, born about 1814, in Aldham. In the 1851 Census William's occupation is shown as Railway Labourer. George was the eldest of seven children. In the 1851 Census, aged 13, his occupation is given as Agricultural Labourer. His younger brother, William, aged 9, was a Rook Scarer. They lived at 33, Turkey Cock Lane, Copford. (OSM).
He married Elizabeth Maria Watts (a flower maker according to her marriage certificate) on 24th June 1860 at St Jude, Bethnal Green. (OSM). The church was bombed in 1941 and the site is now Pythology Nature Reserve.
Jack Cansdale (1893-1953)
My Grandmother's older brother, he was christened Harold James Candale, like his father, and was the civilian in charge of the Officers Mess at Catterick Camp in Yorkshire.
He was in the Merchant Navy during the First World War, and according to my mother was a Petty Officer, or probably Ship Steward, which was an equivalent rank, and was his occupation given on his marriage certificate.
On 28th July 1918 he married Violet Lilian Palmer (1894-1983) at St Dionis, Parsons Green, Hammersmith and Fulham. They had one son, Harold Edward Cansdale.
I believe Jack was a ARP Warden during the Second World War.
He died on the 14th of February 1953 at Ivydene, Thorpe Road, Kirby Cross (OSM), which I suspect was a care home, possibly the one which is now The Firs. His house was called Chatworth, also on Thorpe Road.
Harold Cansdale (1927-1948)
My mothers cousin, he was known in the family as "The Boy". He played with my mother, Jane, and Aunt Sue at Little Cucknells, but was sent with white shirts and other unsuitable clothes.
According to my mother he was in the Green Howards, although according to the Suez Roll of Honour he was in the Royal Corps of Signals.
| | | | | | | | | | |
| --- | --- | --- | --- | --- | --- | --- | --- | --- | --- |
| Name | Rank | Number | Date of Birth | Age | Unit | Date of Death | Cemetery | National Roll of Honour | Armed Forces MEMORIAL |
| CANSDALE, Harold Edward | Signaller | 14072667 | 17-May-27 | 20 | 3rd GHQ Sig. Regt | 05-Feb-48 | Fayid War Cemetery | yes | yes |
He could have joined the Green Howards, and then moved across to Signals, or been attached to them as a Signalman.
The son of George William Cansdale (1871-1972, he lived to 101 !) and Alice Louisa Soper (1871-1948), he is labeled "The zoo man" in my mothers copy of the family tree. The connection is via a dotted line which does not track the exact relationships, but his siblings are on the paper copy too.
His Wikipedia entry, and obituary in the Independent tell the fascinating story of his life.
His Grandfather, also called George Cansdale, was also born in Copford, Essex, around 1840, and seems to be been, by the 1881 Census living at 1 Vine Cottages, Stamford Hill, Hackney.
Joseph May
Born on 27th June 1827 in Bethnal Green, he was a plasterer – and in the 1881 Census a Journeyman Plasterer. He married Elizabeth Sadler (born 28th May 1828, in Stoke Newington), and they had ten children, one of them being my Great Grandmother, Elizabeth May. Of the children, all but two were girls, and one boy died young, so the girls mostly moved out into domestic service as soon as they could leave home.
He was living at 54, Pullens Place, in the parish of St John at Hackney in 1851. Pullens Place no longer exists.
He was living at Pullens Place in 1855, when Sophia is baptised.
I think he is living at 11, Union Street in 1871, and 1881.
In 1891 he is still a plasterer, aged 65, living with wife Elizabeth, and daughter Annie at 34, Sandford Terrace, Hackney St John.
In 1901 he was living at 43, Prince George Road in Stoke Newington, at the home of is widowed daughter Elizabeth, her children Harold and Lilian, his wife Elizabeth, and his single daughters Matilda and Eleanor.
He died on 10th January 1903 at Mile End Old Town Infirmary, and was buried at Plaistow, which I think is the East London Cemetery
Annie May
Born about 1848, in Stoke Newington.
In the 1881 Census she is living with her parents at 11, Union Street, and is a Cook (Domestic Servant). She would be 33, and is presumably working from there as a cook in some other house. In 1991 she is Domestic Servant, living with her parents.
In the 1901 Census she is possibly a servant, aged 53, to the Fincham family at 4,Gloucester Terrace, Greenwich
In the 1911 Census she is living at 4 Chipstead Street, Fulham (OSM), as a Lodging House Keeper, along with her sisters Sophia and Emma.
Harriet May
Born about 1851 in Stoke Newingon
Some time before 1881 she married Peter Findlay, as in the 1881 Census they are living at 79, Rotherfield Street, Islington (OSM), probably as tenants of Jane Green (widow aged 50) and her son and daughter.
Peter Findlay was born about 1851, in Tealing, Forfar, Scotland. By 1851 he was a single soldier, living at the Royal Horse Guards Barracks, St Pancras. By the 1881 Census he is a Police Constable, which he remains until the 1911 Census, when he is a Police Pensioner.
By 1891 they are living at 5, St Dunstan Street (it looks like) in East Ham. Their daughter, Maud, aged 9, is now living with them.
In the 1911 Census they are living at 6, Wentworth Road, Manor Park (OSM) and Maud, now aged 29, is a Clerk
Emma May
Born about 1851, in West Hackney.
She became a housekeeper for Queen Mary at York Cottage. Aunt Sue inherited a blue and white vase from her. My mother inherited a water stained table, possibly from the nursery of George VI.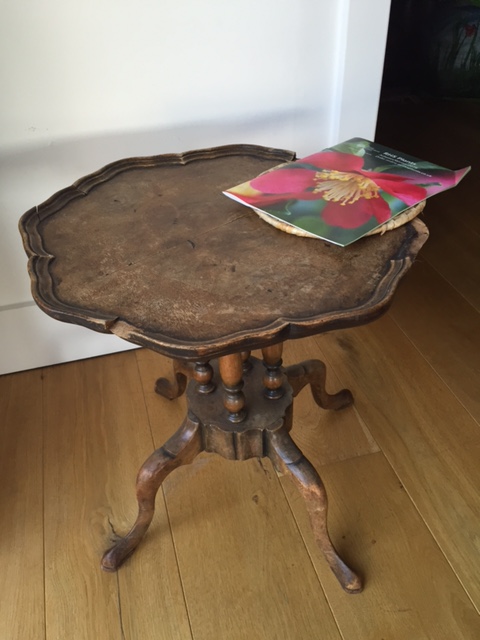 We think this pie crust table may be the one she is referring to. It certainly is water stained, but does not appear to have a "Maple & Co" stamp, as York Cottage was furnished from them.
By the 1911 Census Emma is living at 4 Chipstead Street, Fulham with Annie and Sophia.
Sophia May
She was baptised in Hackney on 2nd December 1844, when her parents were living at Pullens Place.
She ran a boarding house for Clergymen at 4, Chipstead Street, Fulham. She had a Dutch lodger called Van Linshooter who was thought to be in German pay and committed suicide. Joseph May formally identified the body.
By 1911 Annie and Emma were living there too.
Dorrie inherited the house.
Henrietta-Marie May
Died young – I don't have a year of birth, or any other details
Samuel May
Born about 1857, he was a plasterer, like his father. He married Harriet Gibson, and by 1901 they were living at 59 Sandbrook Road, Stoke Newington with 6 children. He had 7 children in total, but the youngest was born in 1903.
Matilda May
Born about 1861 – according to my mothers notes she was paralysed at birth, but this seems unlikely as by 1881 she is, possibly, a Servant, Domestic at 22 Middleton Rd, Hackney, for the Oatley Family. By 1891 – possibly a Servant for the Forsaith/Machell Family at 3, (something) Stoke Newington
By 1901 she is, aged 40, living at 43, Prince George Road, Stoke Newington, with Joseph, Elizabeth – and Elizabeth, Harold and Lilian Cansdale.
Alfred May
My mothers notes simply say "died young".
In the 1881 Census there is, living at 11, Union Street with Joseph and Elizabeth, a one year old Grandson called Alfred F May. He could be an illegitimate son of Annie, who is also living with them.
Elizabeth May
My great grandmother, as noted above.
Eleanor May
Born about 1872, and known in the family as Nell. She married George Richmond (Alfred George Richmond), on 13th July 1901 at St Mary, Stoke Newington.
He was a Hotel Clerk in 1901, and a Hotel Wine and Cigar Salesman by the 1911 Census.
They both lived at 59, Sandbrook Road at the time of their marriage in 1901.
They lived at 31 Chipstead Street, Parsons Green, Fulham S W at the time of the 1911 Census.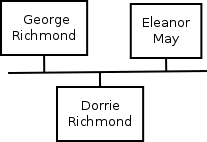 They had a daughter, Dorrie, born in 1904.
They lived in an Edwardian Semi Detached house in East Sheen, in Richmond, which I think was where Dorrie and Sid lived, even though Dorrie had inherited 4, Chipstead Street.
Places
Birthplace of both George Cansdales, it is a village in Essex, quite a distance from the Bethnal Green/Hackney area where they both moved to.
Birthplace of James Cansdale, it is a small rural hamlet, about 5km from Copford.