The house my mother was brought up in was called Little Cucknells, and is in the village of Shamley Green in Surrey.
Buying and building
On 6th December 1926 a consortium of buyers bought Reel Hall, Pasture Wood and Little Cucknells, which had been part of the Woodhall Estate.
The buyers were (from a note from my mother, although the main buyers were Leonard Box and Sydney Curtis, in most of the transactions):
Leonard Arthur Box, of 28, Great James Street
Colonel Sydney Curtis of Stockhouse Farm, Albury
William Harry Messenger of Town Hall Chambers, Guildford
The record of the registration of Freehold land and buildings known as Reelhall Farm, Wonersh, Surrey – to Sydney Curtis of Stockhouse Farm, Albury, Surrey and Leonard Arthur Box of St James Street can be found in The London Gazette of 28th December 1926.
The record of the registration of Carthouse Meadow, Wonersh, Surrey – to Sydney Curtis of Reel Hall Farm, Wonersh, Surrey and Leonard Arthur Box of 28, Great James Street, Bedford Row, W.C. 1 can be found in The London Gazette of 15th November 1927
Note that Sydney Curtis is now living at Reel Hall Farm.
Note that there may be other records which I have not found, also Sydney Curtis married Margaret Box, my Great Aunt and sister of Leonard Box, in the first quarter of 1924 at St. Martin, London. They went on honeymoon, but they did not get on, and she went back to being Margaret Box.
Apparently the house (Little Cucknells) was build in 1927 (although this may have been when building started, and well analysis was done in November 1927.
On 15th January 1929 Little Cucknells land transferred from joint ownership to ownership by Leonard Arthur Box.
Also on 15th January 1929 was the sale to Rooper of West Carthouse Meadow. The signature was witnessed by Beatrice Williams, housekeeper at Reel Hall. The Rooper address was Wyburn, Gerrards Cross, Bucks.
Neighbours and local characters
Some of the people who came up in conversations with my mother in relation to her life at Little Cucknells – I am sure there were many more who do not occur in my notes or memories.
The Roopers
The Roopers – pronounced Ropers, bought Reel Hall – pronounced Rill Hall, from my Grandfather and his associates.
Reel Hall was converted from a barn and sheds into a house. It had been a Saxon house.
Mr Rooper was a director of the Port Line shipping line. (There was also a P&O family in the village). There is a picture in the Belfast Newsletter from 1961 showing Mrs D.R. Rooper (She would probably be the wife of David, the youngest son) at the launch of of the 9,650-ton motor vessel Port St Lawrence for the Port Line Ltd.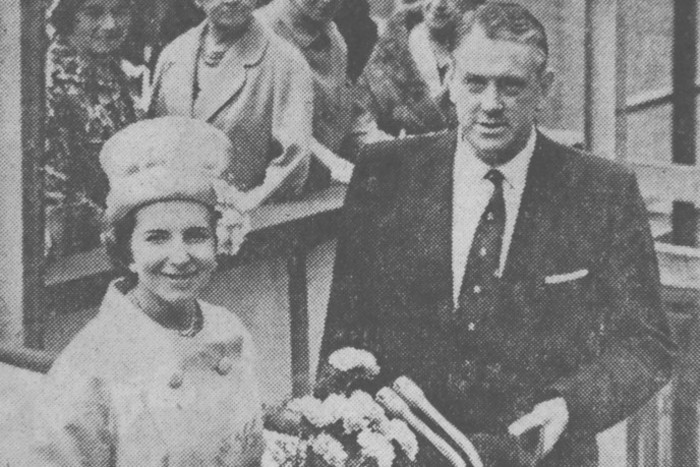 Dr Dennis Rebbeck was the son of Sir Frederick Rebbeck. They were chief Executives of Harland and Woolf. They are remembered by Peter Rebbeck, son of Dr Dennis, and others. I do not think there is a connection between these Rebbecks and Eddie Rebbeck, mentioned in Pickwick Paper No. 9, but as a Rear Admiral and later a senior executive at Vickers, it would be an interesting co-incidence.
The Roopers had 3 sons, Anthony , Ralph and David. They were each given a Humber Super Snipe when they reached 21. Mummy remembers the youngest one.
One of the cottages at Reel Hall was occupied by Mr and Mrs Sid Killick (no relation to Frank Killick) – and he was gardener to the Rooper family. He was actually Sydney Killick (Born 15th December 1899, Albury; Died about September 1983, Surrey Mid East) – From Terry Smith's family tree site – thanks to Terry for the further information on him, and Frank Killick below.
The Blackers
Doctor Blacker lived at Pasturewood Cottage. The Blackers had two daughters, Carmen (not sure when she was born, I think she was the elder) and Thetis (born 1927) and so my mother and aunt were girls of a similar age.
Carmen writes about being visited by Phiroz Mehta at their house in Shamley Green. Like her father she became a doctor.
Thetis was an artist and singer. There is a picture of one of her works on the blog of Nicholas Colloff, Director of Innovation at Oxfam GB.
Doctor Carlos Patton Blacker is buried at Shamley Green, Christ Church Churchyard (as well as Tony Hart and the ashes of Sir Harry Secombe)
Domestic Help at Little Cucknells
Granny Box had two girls, when my mother was very young. One was called Nanny (though she was not a real nanny), and was 14 or 15. The other was called Mary. They came from somewhere like Doncaster. Nanny met a young man, married and moved away. By that time my mother and aunt were going to school. Mary went on working at the house. She met and married Mr Blackman – he was "a right so and so" and turned into an unpleasant character later. They had a son Louis (or it might be Lewis) Blackman, who had a beautiful voice; when the village choir were on the radio he was in it, and he went on to sing professionally. His mother, Mary, would have helped him get on – they used to see Mary quite often through the years – she would pop in to see Granny Box and tell her woes.
They eventually had Mrs Bullen. Granny said to Mummy in later years '
Go and dust – and not like Mrs Bullen' – meaning moving the dust in the air – she became quite ancient and arthritic.
Mr Bullen was a roadman – worked all over the place. She made dandelion wine – Mummy remembers her and Sue picking dandelions to make wine.
Frank Killick
Frank Killick was the gardener – he was an orphan – had been at an orphanage – was probably only 14 or 15 when he started (but to infant Mummy and Sue a grown man).
He brought in firewood, and did various gardening jobs. They had a little cart as well as the pony trap – and they would take Harry (the pony) and cart into the woods.
Tins were put into a little pit in the woods. Most bottles were returnable. Medicine bottles – generally blue in those days – were put in the pit too. Killick would put things in the pit.
He didn't like the bees and the bees didn't like him. He could not scythe up near the bees.
He was called up – went off, but was turned down as he had flat feet. He was put into a squad at Dunsfold aerodrome -which they were building. He would pop in and tell them the news (e.g. they had a squad, with one spade between them). There was a row of cottages there where they wanted to build the runway. They jacked them up onto log rollers and moved them.
Frank Killick married Beryl (who was actually Sheila Beryl Trussler). Sue and Mummy went to the wedding – wearing little hats and floral dresses. They used to come and child mind in the evenings sometimes. (I think this is the Killicks childminding Mummy and Sue). I think this is probably the Freebmd reference.
I suspect his son worked for Granny too, as although I don't remember ever meeting him he was called "Young Killick", and I understand he was responsible for the plantation of Christmas trees in Little Cucknells Wood, and the bins of corn for pheasants. We would hear a shotgun in the woods from time to time.
Shamley Green Miscellany
Shamley Green is mentioned (as Shamley) in Rudyark Kipling's poem Merrow Down.
Miscellaneous memories from Jane Box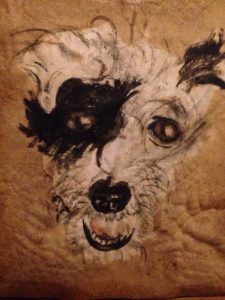 Their dog was called Nenny Flea. This picture was painted by my mothers sister, and was on the side of a wooden box.
My mother remembers the day they met the hunt, going down on the pony (Harry) and trap. Harry thought he should join the hunt and tried to follow them. Mummy was about 4. Sue was not at school then. This was going down to be put on the bus to school, in Bramley, where she was picked up by one of the Kindergarten teachers.
Mummy dimly remembers her parents having masonic dinner in town and staying at Miss Ball's for the night. (I am not sure who Miss Ball was). I am pretty sure Grandpa Box was a mason, and that Mummy taught at a Masonic School at some stage. It could even have been The Royal Masonic School)
Her family kept bees during the war, which meant an extra sugar ration, for the bees to keep them through the winter.
Given anaesthetic at the dentists, as a child – awoke from a dream about rowing a boat to find that she was attempting to row the dentists drill.
Her acting career "A Christmas rose", she had to stand on stage and look sweet, The dormouse The Cheshire Cat , twice!!! Type cast? Puck – The mischievous wood sprite from Midsummers Night's Dream. She also played other roles in Guide plays.
Butterfly bomb
On the way to Guides, with Sue, on their bikes, she found a Butterfly Bomb on Farley Heath, and after a bit of prodding it, decided it was a dud and took it to the police station in the basket of her bicycle. The police were not delighted with this unexpected gift ! Apparently the unfortunate recipient of the bomb was the aptly name P.C. Cross !
My mother made a bit of a habit of this, as when clearing out Little Cucknells she found a rifle under my Granny's bed, which she took back with her to Edinburgh. After a few phone calls, trying – unsuccessfully to find out what she should do with it she took it, on the bus, to the central Edinburgh police station and presented it to the desk sergeant !
My memories of Little Cucknells
The attic
There was a very large attic, with several rooms, and this was the main place we would play if it was too wet, or cold to be outside.
There was a train set, with clockwork engines, and a variety of wagons. I suspect it was O guage, and might have been Hornby. I remember a snowplough, and flat truck with cable drum as found at http://www.vintagehornby.net/vintage-hornby-wagons.php
There was an old wind-up gramophone, with records such as 'Hush, Hush, Hush – here comes the Bogey Man' and 'The Laughing Policeman'
There was wooden greengrocers shop with vegetables made from cloth.
The Kitchen
The kitchen had an Aga, and a gas powered fridge. There was an adjoining scullery, with a cream maker.
Christmas
We spent Christmas itself with my fathers parents, and then came to Little Cucknells afterwards, and had a second Christmas dinner. There was a supply of silver sixpences, which – rather than being mixed in with the pudding – were distributed by sleight of hand when the pudding was served, for fairness.
Leaving the house, and woods.
Following the death of Lillian Box in 1972 Little Cucknells house and garden was sold.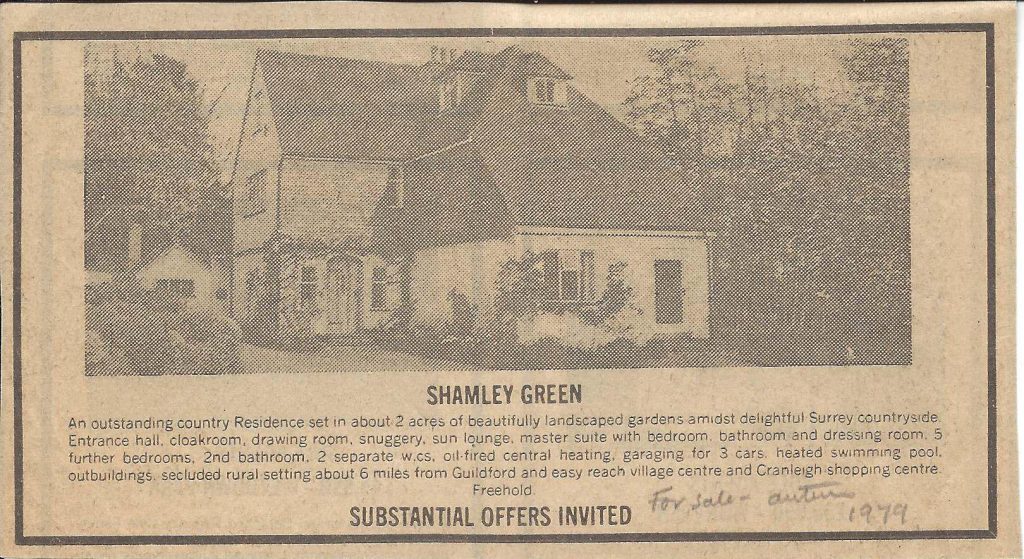 Cucknells Wood was donated to The Surrey Naturalists Trust. The Ranger Notes tell of improvements to access, which was always pretty boggy – presumably one reason why they remained as woodland rather than being developed.
My Aunt Fanny and Aunt Jennifer have been as volunteers, and Fanny's sister and brother-in-law came once and helped to tidy ground.
Postscript
In our house in Oxford we had a Yucca plant outside the front door, in a rather dangerous place, so it was removed and placed on the compost heap, where it thrived, and was replanted to the back garden. A friend of a friend, visiting our house, commented that he had not seen such a yucca "since Little Cucknells". It turned out that his parents had bought Little Cucknells after my Grandmothers death!