My Great Great Aunt was Lilian Jane Stevens,  the Aunt of my Grandmother, born Doris Joan Stevens, who married George Edward Lines in 1922.
Lilan Jane Stevens married Edward Wise Rebbeck in 1896. The Lines family kept in touch with the Rebbeck family, as is shown by their news appearing in The Pickwick Paper, a family newsletter produced by my father and Uncle Michael.
This page is about some of the more famous Rebbecks.
Edward Wise Rebbeck (1842-1913)
The middle name of Wise comes from his mother, Jane Irwin Wise (1808- ?), rather than because he was particularly sagacious, but he did achieve a lot.
Early life and first marriage
His father, William Edward Rebbeck (1803-1879) was a house agent who had 9 children – Edward had 2 elder sisters and 6 younger siblings.
Edward Wise Rebbeck married Susannah Kerley (1851-1893) in 1872 – she would have been the Mayoress referred to in the invitation above, but she died in 1893. He was Mayor of Bournemouth (1891-1892).
He laid the foundation stone of the Royal Victoria Hospital, Westbourne on 21st June 1887, to celebrate the Golden Jubilee of Queen Victoria.
In 1896  he sponsored a window at St Peter's Chruch, in memory of his late wife, her foster parents, his parents, and his sister.
Marriage to Lilian Jane Stevens and family
Around February 1896 he married Lilian Jane Stevens at St Mary's Church, Tyndalls Park, Clifton, Bristol.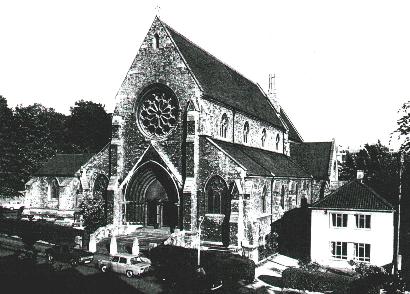 Edward and Lilian had five children
Edward William Wise Rebbeck (1897-1916)
Lionel George Rebbeck (1899-1913)
Leopold Edward Rebbeck (1901-1983)
Lilian Grace Rebbeck (1903-?)
Philip Charles Rebbeck (1905-1910)
He also clearly kept in close touch with his brothers and sisters as in the 1901 Census he has living with him, as well as Lilian Jane, Edward W W and Lionel George his niece Harriet E Gooch. There is also Lilian's sister, who is now Minnie S Dole and her daughter Muriel.  There was also a Cook, a Housemaid, a Kitchenmaid and a Nurse.
The Nurse would be needed as in 1901 Edward W W would have been 4, Lionel George 2, and Lilian would have been expecting Leopold Edward.
Harriet Elizabeth Gooch was the daughter of Edward Wise's older sister Susannah Kate Rebbeck (1840 to 1923), who married George Gooch (1839-1907). Harriet was 29 at the time, and presumably working in Bournemouth, as her parents were living (I think) in Hampshire at the time.
Lilian's sister Minnie Stevens (1863-1932) married James Dole (1830-1899), a wealthy importer of tins of fruit from the USA,  in 1885, also at St Mary's church, Tyndell's Park. It would be interesting to find that he was related to the more famous James Dole (1877-1958), but I have not found such a connection. Their daughter Muriel was born in 1886, so would have been 12 or 13 when her father died, and was 14 at the time of the 1901 Census.
They were all living at Stafford Park Lodge. (OSM)
Freemasonry
Edward was a initiated into the Lodge of Hengist (No. 195) in 1863.
Provincial Grand Steward (1868)
Provincial Grand Pursuivant (1869)
Provincial Senior Grand Warden (1878)
Founder Member of Hengist Royal Arch Chapter No.195 (1886)
Most Wise Sovereign of Vigne Chapter (Rose Croix) No.25
Death and Burial
Edward Wise Rebbeck died on 13th March 1913. He is buried at St Peter's Church, along with Mary Shelley, Mary Wollstonecraft and Lewis_Tregonwell (founder of Bournemouth) and several other famous people.

Edward William Wise Rebbeck (1897-1916)
He went to Charterhouse School, the joined the army, probably in 1914. He became a temporary 2nd Lieutenant in the Kings Royal Rifle Corps. (from Lives of the First World War).
He must have transferred, or been seconded, to the Royal Flying Corps, and died in an air accident on 24th April 1916.
B.E.2c 4511, 16 RS, Beaulieu
Sideslipped off low turn and nose dived, Talbot Village, near Bournemouth
2Lt Edward William Wise Rebbeck (19) killed
He is mentioned in the Roll of Honour at his old school, which also has a picture of his memorial.

Lionel George Rebbeck (1899-1913)
In the 1911 Census we was a pupil at Wychwood School, Braidley Road Bournemouth .  This is also the school attended by Group Captain Peter Townsend, although much later.
He died in 1913, aged 13.

Leopold Edward Rebbeck (1901-1983)
Born 26th July 1901, he possibly served as a Midshipman on HMS Vivid, a Navy Shore Establishment,  in 1914. During World War One he served on HMS Erin. From 1932 to 1935 he was on HMY Victoria and Albert. In 1935, while serving on the the Victoria and Albert he received the King George V Silver Jubilee Medal (along with a lot of other people). He was Assistant Naval Attaché to the USA during World War Two, which may have been where he was going when he was mentioned as sailing to Barbados on HMS Vindictive in the Pickwick Paper.  He also served on HMS Birmingham during the war. In 1946 he was Commanding Officer, RN Air Station Anthorn.
He went to to be Fleet Engineer Officer to C in C Mediterranean in 1949, ADC to King George VI, 1951–52; ADC to the Queen, 1952; Rear-Admiral Reserve Aircraft, 1952–55, retired. He retired from the Navy on 3rd October 1955.
He was at the Vickers Group, 1956–66. Mem., Soc. Naval Architects and Marine Engineers (New York).
He was made a companion of the Order of the Bath in the 1954 New Year Honours, and a Knight Commander of the Order of the British Empire in the 1956 New Year Honours.
He died on 23rd May 1953.
Lilian Grace Rebbeck (1903-1918)
She was known in the family as Gracie, and died in 1918, aged 15.
Philip Charles Rebbeck (1905-1910)
He was another of the many lives cut tragically short, dying aged five years old, which was not unusual for that era.
In the 1900s, 33% of deaths occurred in the under fives and only 13% occurred over the age of 75
Lilian Jane Stevens/Rebbeck/Cardew (1872-1938)
The 5th child of William Stevens (1838-1913) and Sarah Elizabeth Locock (1842-1909), she was born in Bristol.
When she married the widower Edward Wise Rebbeck in 1896 she would have been 23 and he would have been about 54.
After the death of Edward Wise Rebbeck in 1913, Lilian continued to live in Stafford Park Lodge. She married Reginald Kirby Cardew (1862-1954) in 1919.
Reginald was the son of the Reverend George Cardew and Marthanna Caroline Alice Kirby. He was educated at Oxford, and in 1911 was a tutor, living, with his widowed mother, then aged 70, at what was probably the family home at St Minver, East Liss, Hampshire. Boarding with them were 4 male students and they were looked after by 3 female servants. His elder brother Colonel George Hereward CARDEW CBE DSO was awarded the Distinguished Service Order in 1902, and was awarded a CBE in 1911.
They lived at Stafford Park lodge until her death on 30th December 1938. She had an estate worth £6488 15s 5d and her executors were Cedric Champion Stevens (my Great Uncle, known in the family as Peter) Glass manufacturers clerk and William Gerald Stevens (I am not sure where he is on the family tree), commercial clerk.
Reginald died at Truro on 1st January 1954.